– JAPAN: Our Final Port –
September 20, 2004 – My last installment chronicled our first day in Taiwan. We stayed in Taiwan for four days. In retrospect the country was more engaging than I thought at the time. I could write a lot more about it – after all, we spent two full days traveling from one end of the island to the other with the "travel agent from hell" – but I'll skip that for now. Maybe I am not ready to relive it just yet.
After two more days at sea we docked in Kobe, Japan. We would be in Japan for six days. That was longer than any other stop along the way. There had been some good-natured grumbling among the faculty and students about the length of our stay. We all knew Japan would be the most expensive country on our itinerary in terms of goods and services. Many felt that some of our time in Japan would have been better spent in an earlier port, such as Vietnam. (Everybody wanted more time in Vietnam.) As it turned out, however, Japan charmed us all. Yes, it was terribly expensive, but it offered a lot in return.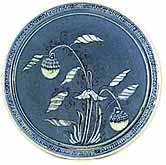 Osaka
Our first day in Japan wasn't spent in Kobe, even though that's where we were docked. We had signed up for a tour of the Museum of Oriental Ceramics, which was located in the city of Osaka. To get there we had to take a series of trains. It was the perfect introduction to Japan's extensive (and often confusing) rail system. This was important because we would be relying on trains for most of our transportation in Japan. The Museum of Oriental Ceramics is a relatively small museum devoted to collecting, exhibiting, researching and preserving oriental ceramics. The collection includes over 3,000 pieces of historically significant ceramic works from Korea, China, Vietnam and Japan. We enjoyed the displays, especially some of the older pieces.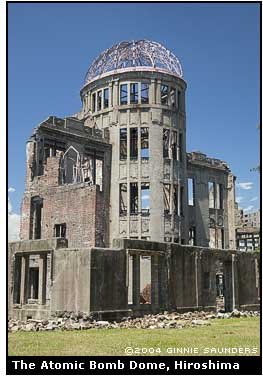 Hiroshima
The next morning we decided to go off touring on our own. We set off for Hiroshima on the Shinkansen (high-speed bullet train), accompanied by our good friend from the ship, Dr. Becky Houck, a marine biologist. It took a couple of hours to get to there.
As it so happened, we arrived in Hiroshima just one day before the 59th anniversary of the bombing. On August 6, 1945, the first atomic bomb was used in warfare and Hiroshima was its victim. Over 200,000 were killed and countless others were seriously injured. Mankind had officially entered the atomic age. There was no going back.
The Peace Dome
Hiroshima was leveled and 70,000 of its buildings were reduced to piles of burning rubble. One of the few structures left standing – part of it, anyway – was the Hiroshima Prefectural Commercial Products Exhibition Hall. It sat almost precisely at "ground zero." The uranium bomb, code named Little Boy, had exploded above the Hall at a height of 580 meters, sending a nearly vertical blast-wave down into the building. Thirty people inside, and all nearby, were immediately incinerated.
Hiroshima has since been rebuilt. It is now a modern city and, more importantly, a widely recognized international center for world peace. The remains of the Exhibition Hall have been preserved unchanged since that fateful day in 1945. Now known as the Peace Dome, or Atomic Dome, it has become the most famous landmark in Hiroshima, a powerful symbol of the horror of war and the desire for lasting peace. I stood before the Peace Dome with goose bumps and a lump in my throat. It was an emotional moment.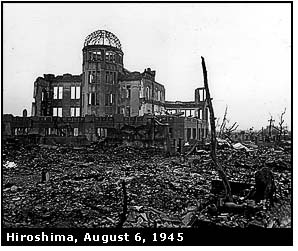 The Hiroshima Peace Memorial Museum
Located on the banks of the Motoyasu River, the Peace Dome is part of Hiroshima's extensive Peace Memorial Park. The park contains more than fifty peace monuments and a large museum. We toured the grounds, paying special attention to the Children's Peace Monument, and we watched as hundreds of people scurried about preparing for the anniversary events that would take place there the next day. Over forty thousand people from all over the world were expected to pour into the park.
We next visited the Peace Memorial Museum. It was an uncomfortable experience, but so worthwhile. The museum displays large models and photographs of Hiroshima, before and after the bombing, film clips, narratives, photos and poignant artifacts such as children's toys and clothing, plus a watch that stopped at 8:15am, the exact moment of the bomb blast. Until I toured the museum, I did not grasp the enormity of the destruction and the scope of human suffering that befell Hiroshima. The moral justification for dropping the atomic bombs on Hiroshima and Nagasaki is something that has been – and will continue to be – hotly debated.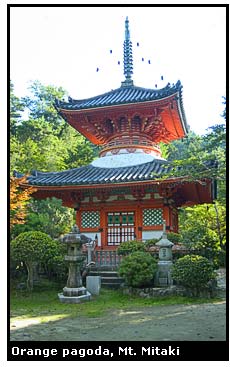 I will leave that to the historians. One can only hope and pray that never again will man feel compelled to use such weapons. The nuclear bombs we have today are, quite literally, a thousand times more powerful than the 15 kiloton-yield uranium bomb that was dropped on Hiroshima.
Mitaki (Three Waterfalls) Temple
We took a taxi from the Peace Park and retreated to the cool hills of Mitaki Mountain, just a few kilometers away. Once there, we climbed a long series of rustic stone steps through a damp green forest to reach the Mitaki Temple area. Small temple buildings were tucked along the trail, each in its own little clearing, always with some sort of water feature nearby, often a small pond or waterfall. Everywhere we looked we saw weathered stone figurines, small Buddha's, and small tombstones, hundreds of them. Some were nestled in dripping grottoes while others sat along the edge of the steps. A passing monk told us that in 1945 Mitaki Temple became a retreat, of sorts, for hundreds of refugees fleeing Hiroshima after the bombing. Many of them were children. Due to their injuries, scores of refugees died at Mitaki, unknown and unnamed. The tombstones and figurines were carved to honor those who had died. Today, Mitaki remains a very active place of worship, and it is one of the most rustic and scenic temple sites in Japan.
Kyoto
The next day we took the train to Kyoto. I visited Kyoto for the first time in 1980. I loved it then and I still love it now. A tourist could stay in Kyoto for a week, a month, a year and never run out of things to see and do.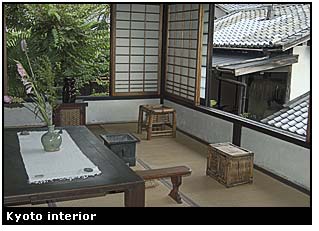 Kyoto, established in 794, is a historic city with wonderful atmosphere. It was the capital of Japan for over 1000 years until the capital was moved to Edo (Tokyo) in 1846. During its political heyday, Kyoto developed as an intellectual, cultural and commercial center, full of temples and shrines, castles and palaces, teahouses and gardens. Many of its most famous landmarks and neighborhoods have survived into the twenty-first century, in part because Kyoto was the only prominent Japanese city to escape the Allied bombings.
In addition to visiting temples and shrines, we took pleasure in wandering through old neighborhoods lined with beautifully crafted wooden buildings from the Tokugawa period (17th century). I remembered these from twenty-four years ago and it was a thrill to see that so many still survive, especially since earthquakes and fires are an ever-present danger. These aged wooden structures are fragile and irreplaceable.

Kyoto Station
While Kyoto reveres its past, it also has its eye on the future. Nowhere it that more apparent than at Kyoto Station, a modern steel and glass structure that is, among other things, Kyoto's main transportation hub. When we got off the train in Kyoto Station, I Iiterally gasped. The place took my breath away.
I have since learned that Kyoto Station, which opened in 1997, is the largest train station in all of Japan and one of Japan's largest buildings. (No surprise there, having seen it in person.) It houses the Japanese Railway (JR), various subway lines, a large hotel, a major department store, three theaters, a game center, a shopping mall, government offices, restaurants and an observation deck. A stunning combination of soaring glass and steel and with colossal public spaces, Kyoto Station has been highly controversial among the citizens of Kyoto. Some feel it "ruptures" the city's architectural heritage. Maybe so, but the fluidity of space, intriguing discontinuities of scale, open roof lines and infinitely mirrored reflections create a magical sensory experience.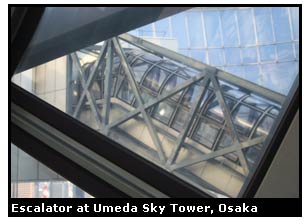 Hiroshi Hara
Kyoto Station's architect was Hiroshi Hara, whose work we encountered later in Osaka. There, he designed the Umeda Sky Building, another structure that knocked my socks off. It consists of two towers connected by a series of glass enclosed escalators that float in the air between them. The towers are conjoined at the top by a vast circular open-air observatory that seems to hover above Osaka. It's called the Floating Garden Observatory.
I've become a big fan of Hiroshi Hara and I took many photographs of Kyoto Station and the Sky Building. Click here if you'd like to see a few of them.
Hiroshi Hara Photo Gallery || Previous Installment || Next Installment
---
©2002-2008 by Ginnie Saunders. All rights are reserved. No part of this web site may be reproduced or transmitted in any form or by any means — electronic or mechanical, including photocopying, recording, or by any information storage or retrieval system — without written permission from Ginnie Saunders. To learn more about copyright issues on the web, visit the Web Law FAQ.






Ginnie.com, Inc.
PO Box 50314
Columbia, SC 29250
(803) 783-3169
www.ginnie.com