– Semester At Sea –
June 26, 2004 – I am very privileged to be participating in the 2004 Summer Session voyage of SEMESTER AT SEA, a "maritime university campus" academically sponsored by the University of Pittsburgh. Our vessel, The Explorer, will be sailing the Pacific Rim from June 17 through August 21 with scheduled stops at Sitka, Alaska; Kodiak, Alaska; Petropavlovsk-Kamchatsky, Russia; Busan, South Korea; Shanghai, People's Republic of China; Hong Kong, PRC; Halong Bay, Vietnam; Keelung, Taiwan; and Kobe, Japan. Fellow travelers include 384 undergraduate students from 10 countries and 187 universities; 27 law students; 20 faculty accompanied by 39 family members, 24 of whom are children; 31 support staff; and 35 adult passengers, twelve of whom are enrolled in the TEACHERS AT SEA program (K-12). The ship is operated by 295 officers and crew representing many nationalities, including the "colorful" Captain Kritikos, who hails from Greece. My husband, Billy, signed on as the geology/oceanography professor for this voyage. We are very excited to be here.
About the ship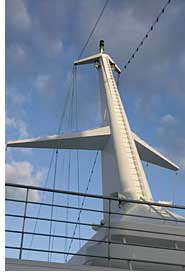 We are sailing aboard The Explorer, a 25,000 ton ship with a length of 590 feet, beam of 84 feet and a draft of 24 feet. It has eight decks. The Explorer is the fastest passenger ship afloat today with a cruising speed of 28 knots. (Due to scheduling considerations and the high cost of fuel, we've been traveling at 15-20 knots most of the time.) The ship was built by Blohm & Voss shipbuilders in Germany for the former Royal Olympic Cruises, and christened "The Olympic Explorer" in Greece in 2002. It went on the market this Spring (due bankruptcy, I was told) and was subsequently purchased by the Institute for Shipboard Education, University of Pittsburgh, just three weeks ago. On June 13 when we boarded the newly named "Explorer" along with the rest of the faculty in Portland, Oregon, we were stunned. Nobody expected to be traveling aboard a luxury cruise liner!
The staff and crew of Semester at Sea had been working feverishly for 10 days to transfer everything from the S.S. Universe Explorer, which had been serving as SAS's maritime campus since 1996, to the newly purchased ship. Converting a large luxury cruise liner to a fully functional university campus in less than two weeks was, and still is, no small task. There were boxes – and people in blue work suits – everywhere. As 11,000 books were stacked and organized in the newly created library on the port side of Deck 6, a team of engineers labored to create a fully functional computer lab with wireless internet access over on the starboard side. Others toiled day and night to establish the student union, campus stores, two dining rooms (on two different decks), numerous classrooms, and a fitness center. 418 cabins had to be prepared for the incoming occupants, along with six passenger decks.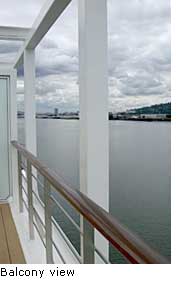 Our Accommodations
Shortly after we boarded the ship with our many bags of luggage, my husband and I were shown to our cabin. We are berthed on the 7th deck, in one of only 12 "deluxe sky suites." Word has it that ours is the only SAS voyage where SAS faculty will be able to enjoy these plush accommodations. During subsequent voyages the "sky suites" will be available only to VIP's and/or paying adult passengers. (SAS allows a limited number of adult passengers from the general public to participate in these voyages as paying guests.)
Our cabin is wonderful. It is equipped with a comfortable queen-size bed, a large walk-in closet, an upscale bathroom, a small refrigerator, and a generous office/work area complete with a couch and a broad glass coffee table. The technology staff loaned me a 15-inch CRT monitor to use with my laptop, so I now have two computer screens to work with, just like at home. The most spectacular feature of our room, however, is just beyond the two large sliding glass doors on our port wall. We have a totally private outdoor patio measuring ~18 x 13 feet. Wow! With two lounge chairs, two chairs and a table, our deck offers a magnificent platform for relaxing and viewing the ocean. All faculty cabins have the benefit of a room steward who appears every day to take care of us and our rooms.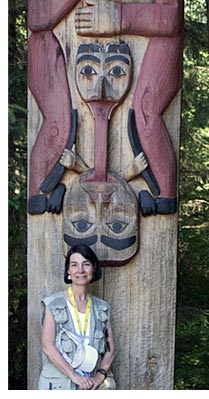 An enormous faculty/staff lounge sits on the bow of the ship near our room on the 7th deck. It offers a commanding 180° view of the sea. The student union is located one deck below. All passengers have access to an exercise area equipped with lots of gym equipment. Our meals are served cafeteria-style. The food is plentiful and quite good.
As you might imagine, we have made many friends since we came aboard two weeks ago. The faculty/staff is comprised of a wide assortment of friendly, interesting people from all over the world. The students are a diverse group of young people who study hard, play even harder, and ask a lot of interesting questions. All in all, we could not have asked for a nicer ship, nicer people to sail with, or a more interesting itinerary. I have enjoyed every single second so far, and we are excited about what lies ahead for us in the coming weeks.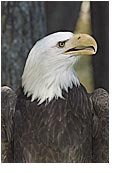 Where are we now?
We left Kodiak on June 22 and we're in the Bering Sea on our way to Kampatcha, Russia. We crossed the International Dateline a few days ago and expect to arrive in Petropavlovsk, Russia, at 0800 on June 28. Our current position is 53 degrees, 37.87 minutes north, and 176 degrees, 28.58 minutes east. Skies are cloudy, visibility is less than a mile, and the air temperature is 54°. It's 4:45pm. Seas are moderate, but expected to become rough toward evening and continue into the night. We've all been warned to secure items in our cabin and prepare ourselves for some pitching and rolling. "Pitching" is when the ship rocks from bow to stern. "Rolling" is when it rocks from port to starboard. Wallowing is when it does both, and that's supposed to be very uncomfortable. The ship has been rocking since early this morning, and it is hard to walk in a straight line. We're all moving around like drunken sailors. Right now I'm feeling just fine, but there are plenty of others aboard who are already turning green and retreating to their cabins.
During the next installment, I will cover our stops in Alaska and tell you a little more about the Semester At Sea program.
---
©2002-2008 by Ginnie Saunders. All rights are reserved. No part of this web site may be reproduced or transmitted in any form or by any means — electronic or mechanical, including photocopying, recording, or by any information storage or retrieval system — without written permission from Ginnie Saunders. To learn more about copyright issues on the web, visit the Web Law FAQ.






Ginnie.com, Inc.
PO Box 50314
Columbia, SC 29250
(803) 783-3169
www.ginnie.com