– V I E T N A M –
August 2, 2004 – Greetings from the East China Sea. We left Keelung, Taiwan, last night at the conclusion of a four-day visit. We are now heading to Kobe, Japan, where we expect to dock at 8:00am on August 4. Due to an unexpected glitch in the ship's internet service my earlier upload of the Hong Kong photo album failed. It is now back online. Please click here if you would like to see it.
Vietnam
This week I will tell you about our Vietnam experience. We arrived in Vietnam on July 21 and anchored in the Gulf of Tonkin's Ha Long Bay, which is located in the northeast corner of the country, approximately 100 miles east of Hanoi and 100 miles southwest of the Chinese border. The bay is one of Vietnam's most impressive natural wonders. It is said to be the most scenic undeveloped port in the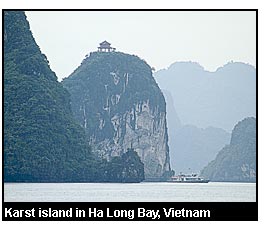 world due to its sparkling blue water dotted with thousands of steep islands which rise up dramatically from the sea floor. These large island-towers of craggy rock are in fact karst formations comprised of limestone that has evolved and weathered for over 20 million years. Ha Long Bay covers 1500 square meters and contains approximately 3000 karst islands, many of which contain large grottoes just beckoning to be explored. In 1994 UNESCO named Ha Long Bay a "World Heritage Site" in recognition of its profoundly beautiful maritime karst landscape that is truly unique in all the world. Adding to the mystique of the exotic landscape are hundreds of fishing and passenger "junks" of various sizes, color, and condition that crisscross the bay. (Ha Long Bay's name means "Bay of Descending Dragons." )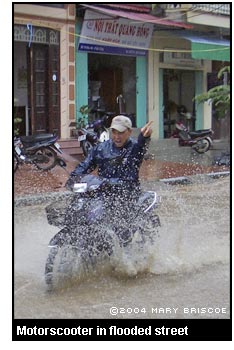 Ha Long City
The Explorer anchored offshore from Ha Long City, a small bustling community that derives much of its income from the tourist trade and fishing. Most Ha Long's tourists are vacationing VIetnamese, but cruise ships sometimes appear with Japanese visitors or, less frequently, Europeans. We spent our first day in Vietnam exploring the streets until we were chased into a small restaurant by a torrent of rain. The restaurant itself was protected on three sides by solid walls, while the fourth side was completely open to the street. From the relative comfort of a small table and four lopsided chairs, a group of us passed the time drinking beer and eating Saigon spring rolls, crab fried noodles, and garlic fried prawns while we watched a portion of Ha Long City's resident population slog by as they went about their business. Most of them were getting completely soaked. The reason for all that rain can be summed up in one word: MONSOON. The summer monsoon had arrived Vietnam just a week earlier, bringing with it a change in the prevailing wind patterns and lots of moisture.
Rural Vietnam
We saw more evidence of the heavy monsoon rains the next day when we climbed onto a motorcoach (bus) with ten students and our Vietnamese guide for a three day field trip which began with a three and a half hour bus trip to Hanoi. It had been raining most of the night. It was raining when we got on the bus. It would continue to rain for almost three full days. It was also very hot.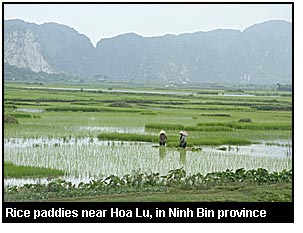 As soon as we left Ha Long City, the surrounding landscape became a broad checkerboard of modulated green squares and rectangles – rice paddies under various states of cultivation. Vietnam is the world's third largest exporter of rice. (Number one is Thailand and number two is the United States. Vietnam's rice generally ships to Africa because the rice is of inferior quality and Africa provides a strong market for cheap grades of rice.) The rice paddies we saw on the way to Hanoi were tended almost exclusively by woman. Even from a distance we could tell the laborers were woman, not men, because they all wore distinctive conical hats. (Vietnamese men do not wear such hats.) According to our guide, 80% of Vietnam's workforce consists of farmers living in small farming villages of 500 to 10,000 people with each family tending up to three plots of land.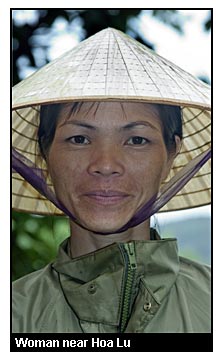 Vietnam's Communist government, which gained full control of Vietnam in 1975, owns the land but families are granted exclusive rights to farm it. By most accounts, Vietnamese woman work harder than Vietnamese men, and in many ways they are the backbone of society. Although they have few fundamental rights and must defer to their husbands, it's the women who are responsible for most of the field labor while at the same time looking after their own homes and families. (The family remains the key social unit in Vietnam.) It is a hard life, especially when the monsoon rains overwhelm the rice fields. On our trip to Hanoi we saw countless flooded fields. Our guide told us that when the rice plants are completely covered with water, as so much of them were, the plants will die because they cannot breathe. As soon as the water subsides the fields must be replanted. Not only is this backbreaking work – everything is done without the aid of machinery – but there is no guarantee of a decent crop because the replacement crop may not have enough time to mature.
Hanoi
We reached Hanoi in time to dine at a very nice restaurant. We then spent most of the afternoon touring the Ho Chi Minh Relic Area. President Ho Chi Minh (1890-1960) is affectionately known as "Uncle Ho" throughout Vietnam. They refer to the Vietnam War, meaning the US-led Vietnam War that ended in 1975, as The American War, because that is essentially what it was. While many Americans still have painful memories of that era (myself included) the Vietnamese people have clearly moved on. Indeed, 85% of Vietnam's population is under the age of forty. To them, the war is long past. They are busy living their lives and harbor no ill-will toward Americans.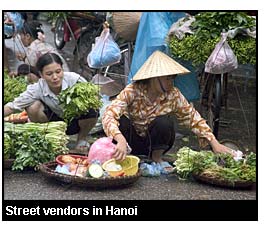 Everyone we met in Vietnam appeared friendly and relaxed. The only tension I detected surrounded the topic of China. Relations between China and Vietnam are very strained. Our guide told us that China wants to dominate and control Vietnam's economy and through clever, underhanded means it is doing everything possible to achieve this end. How true this is I cannot say, but we heard some interesting stories.
After visiting "Uncle Ho's House" we continued on to other spots of interest, including the very beautiful Temple of Literature (Van Mieu), which was built by King Ly Thanh Tong in 1070 to honor the founder of Confucianism. We passed the infamous yellow prison known as the "Hanoi Hilton" but we did not have a chance to go inside. We then spent an hour wandering along an extensive Hanoi street market. We ended the day by attending an evening performance at the Thang Long Water Puppet Theatre.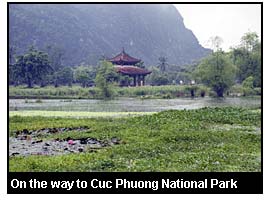 Moving On
By the next morning I was so sick that I almost took a taxi back to the ship (a three-plus hour trip!) because I was didn't think I could continue traveling. Since Hong Kong I had been fighting something we jokingly call "Ship-SARS," a highly contagious virus that has hammered much of the shipboard population over the past month or so. I was running a fever and after several nights of major sleep deprivation due to heavy coughing, I was almost in tears. My husband and the guide persuaded me to stick with the program, which meant climbing back onto the bus for a four hour drive into the jungles of northern Vietnam. Our destination was Cuc Phuong National Park, a 62,000 acre nature preserve located 140 kilometers south of Hanoi. We were to spend the night in Cuc Phuong at a rustic longhouse (lodge). The next morning we would trek in the jungle. Oh boy!
Previous Installment || Last Week's Photo Gallery || Next Installment
---
©2002-2008 by Ginnie Saunders. All rights are reserved. No part of this web site may be reproduced or transmitted in any form or by any means — electronic or mechanical, including photocopying, recording, or by any information storage or retrieval system — without written permission from Ginnie Saunders. To learn more about copyright issues on the web, visit the Web Law FAQ.






Ginnie.com, Inc.
PO Box 50314
Columbia, SC 29250
(803) 783-3169
www.ginnie.com