– S H A N G H A I –
SEMESTER AT SEA
Summer 2004 Voyage
Coming Next: Hong Kong

July 19, 2004 – Last week I ran out of time while I was writing about our stop in Korea. Unfortunately I will not be able to catch up on that particular travelogue, so I am putting together a little album of some of my favorite photographs from Busan and JeJu Island in South Korea. Click here to see it.
The Jade Buddha temple in Shanghai, China
Our visit to Shanghai was wonderful, but far too short. Three days is not enough time to explore such a vast and fascinating city. Our first day was spent on a city tour which consisted of a visit to Yu Garden, a classic Chinese garden established in 1577; a sumptuous banquet at the Shanghai Mansion; a tour of the Jade Buddha Temple, one of Shanghai's few active Buddhist temples, currently home to 70 monks; and an extended stroll along The Bund, a world-famous boulevard that runs along Shanghai's Huangpu River, better seen than described.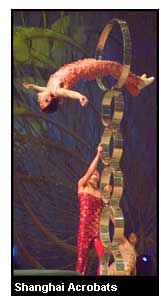 After consuming a lavish multi-course dinner, we concluded our tour by attending an amazing performance by the Shanghai Acrobatics Troupe at the Shanghai Centre Theatre. What a day!
Suzhou
At 7:30 the following morning my husband and I, along with 30 others, climbed onto a tour bus and headed to Suzhou (pronounced Sue-Joe), a 2,500- year-old city located on the Grand Canal in the middle of the Yangtze River delta, just west of Shanghai. Often referred to as the "Oriental Venice," Suzhou is an informal and relaxed city teeming with scenic gardens, canals and bridges.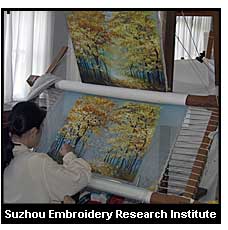 Because traffic in and out of Shanghai was particularly heavy, it took 3 full hours to reach Suzhou, twice as long as it should have. Our first stop was the Embroidery Research Institute where we watched as skilled craftswomen painstakingly stitched intricately detailed imagery onto thin sheets of silk. Some of the works produced at the Institute are commissioned pieces, others are offered for sale at to help support the Institute.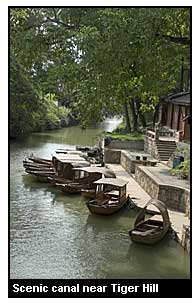 Suzhou is known throughout China for its double-sided embroidery, a special (and secret) technique that is passed down from generation to generation. At the present time there are only 8 people in all of China who possess the ability to create the most spectacular and renowned form of double embroidery. It is a complicated process involving the simultaneous creation of intricate, flawless imagery on both sides of the fabric. After we left the Institute, we were driven to a small pier where we boarded a tourist boat for an excursion along one of Suzhou's most scenic canals. We disembarked at a park near the old city wall.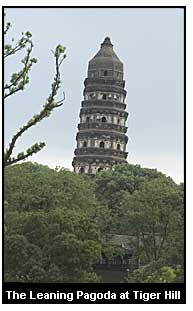 From there, we went to lunch for another multi-course Chinese meal. Our next stop was the Garden of the Master of the Nets, a small but very exquisite formal garden that was established during the 12th century and restored during the 18th century. Our final stop took us to Tiger Hill (Huqiu Shan), site of the final resting place of one of Suzhou's founders, Le Hu, who died during the 6th century BC. At the top of Tiger Hill stands the Leaning Pagoda, an octagonal seven-story brick pagoda that is often compared to the Leaning Tower of Pisa. It was erected over 400 years ago. We were supposed to finish the tour with a stop at the Lingering Garden, one China's most famous gardens, but we were running out of time due to the morning traffic jam. Traffic on the return route was no better – the bus ride back to the ship took another three hours. Fortunately, our Chinese guide was nothing short of extraordinary. She put our six hours of "down time" on the bus to good use by providing us with a constant stream of facts and anecdotes about Shanghai and China. I learned a great deal about contemporary China during that bus trip.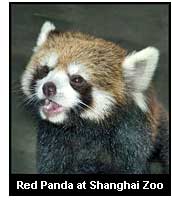 Shanghai Zoo & Shanghai Museum
Our last day in Shanghai began early with yet another field trip. We were bused to the Shanghai Zoo, which is home to a number of red pandas and one giant panda. Their accommodations were not very "natural," but they seemed healthy and happy. At least they were indoors with air conditioning. We humans did not have the benefit of climate control as we toured the zoo. Shanghai was suffering from an extreme heat wave and the temperature had climbed to 103°F a day earlier.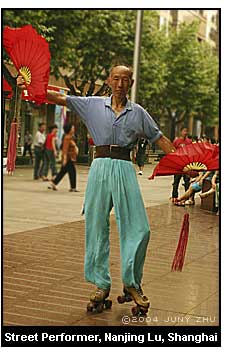 High temperatures coupled with suffocating humidity made outdoor sightseeing pretty difficult. Having suffered through the grueling heat for two days already, we decided to leave the zoo and take a taxi to the Shanghai Museum. We were glad we did. The Museum has over 10,000 square meters of exhibition space in which it features a collection of over 120,000 relics of ancient Chinese art. The interior space is divided into 11 permanent galleries of bronze, ceramics, painting, calligraphy, sculpture, jade, furniture, and more. My favorite exhibit was the bronze collection. We spent several hours at the Shanghai Museum, but it would take many days – if not weeks – to do it justice.
Like most tourists in China, we were anxious to do some shopping. Before leaving the Shanghai Museum, we visited the Museum Shop and bought a few things. We then headed to the Nanjing Donglu. With an estimated 1.7 million visitors per day (during the weekends) Nanjing Lu is considered the busiest shopping street in China and it certainly lives up to its reputation. We strolled along the street surrounded by many thousands of pedestrians. We managed to make a few purchases, but mostly we window shopped and watched the crowds of people streaming by.
Previous Installment || Next Installment
---
©2002-2008 by Ginnie Saunders. All rights are reserved. No part of this web site may be reproduced or transmitted in any form or by any means — electronic or mechanical, including photocopying, recording, or by any information storage or retrieval system — without written permission from Ginnie Saunders. To learn more about copyright issues on the web, visit the Web Law FAQ.






Ginnie.com, Inc.
PO Box 50314
Columbia, SC 29250
(803) 783-3169
www.ginnie.com