June 30, 2004 – My husband and I are spending most of the summer touring East Asia with the Semester At Sea program. From June 17 to August 21 we will travel over 12,000 miles with many stops along the way. (See last week.) Semester At Sea (SAS) is an educational program administered by the Institute for Shipboard Education (ISE) and sponsored by the University of Pittsburgh.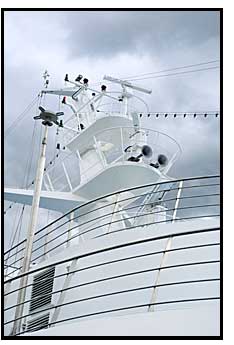 It offers college students a fully accredited academic term of international shipboard study and travel. Faculty, staff and students come together from diverse cultural and academic backgrounds to live on a large ship as it travels around the world.

Courses are offered in a wide range of subjects, including anthropology, engineering, art, english, history, communications, music, political science, law, religion, biology, sociology, geology, oceanography and business. Academic credits for shipboard courses are equal to credits for the same courses at the University of Pittsburgh; as such, they are transferable to most other institutions. A majority of the SAS students are undergraduates, but special programs are available for engineering and law students on selected voyages, and for teachers (K-12) who are seeking continuing education credits. A limited number of spaces are also available for adult passengers who wish to experience foreign travel in a unique academic environment.
About our Voyage
We boarded the Explorer in Portland, Oregon, on June 13, along with other incoming faculty and staff. The next morning our ship left port and headed to Vancouver, Canada. We arrived there a day later. We spent two days in port while the students boarded the ship and settled in. (I loved Vancouver!) On June 17, at 5pm, the Explorer departed for for Sitka, Alaska. Not long after we were underway, an "abandon ship" drill was called. It was pretty interesting, but I suspect the life boat drills will seem increasingly dull as we repeat them time and again. That evening, after dinner, we attended an orientation meeting – required for all passengers. The next full day was spent at sea. A series of mandatory classes were held to introduce everyone to Alaska and its history. That night a general pre-port meeting was called (also mandatory) to cover details of our port call in Sitka.
When we are at sea, classes are held every day. When we are in port, students and faculty take part in a variety of elective educational field programs which must be reserved and paid for in advance. Students are not required to participate in these educational field trips, although they are encouraged to do so. Most sign up for a few programs at each port, and then go exploring during their free time.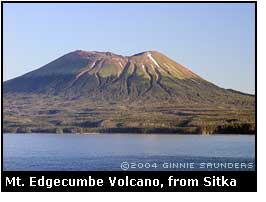 Sitka
We arrived in Sitka on June 19 and anchored for two days. We were transported to shore via the ship's tenders (small boats) which ran to and from the ship at regular intervals. On shore, sponsored field trips included a marine wildlife tour via jet boat, a hike in the Tongass National Forest, a walking tour of Sitka, salmon and halibut sport fishing, a Russian America and nature tour, and an extended bike and hike tour of the Alaskan countryside. We opted for the jet boat tour. Oddly enough, Sitka was experiencing record breaking heat while we were there, and the poor Sitkans were sweltering. We were, too. According to a life-long resident, Sitka usually gets only one or two days between 70° and 75° each summer. Those are considered the "dog days" of summer. On June 19, the day we landed, it was already 82° at the Crescent Harbor city dock by 11am. By mid-afternoon it was 85°, about 30 degrees higher than normal. Many of the small downtown shops were shuttered and closed. It was simply too hot to work indoors (no air conditioning) and most Sitkans – those who could, at least – headed to the water where it was cooler.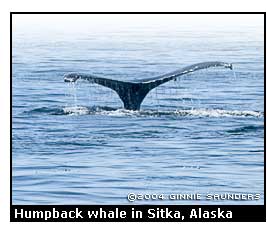 After touring the city with a stop at the Sheldon Jackson Museum, which we very much enjoyed, we too headed for the water. It was time for our jet boat tour of Sitka Sound. For the next three hours we, along with 45 other SAS participants, enjoyed a 50 mile round-trip wildlife tour of Sitka Sound. We saw bald eagles, humpback whales, a raft of floating sea otters and scores of Steller sea lions basking on a rocky outcrop. In addition to the wildlife, I was able to get some good clear shots of the dormant cinder cone of Mt. Edgecumbe volcano (3201 feet, 976 meters), one of the most distinctive geological features of the area. When the tour was over, we were deposited back at the wharf, smiling and sunburned.
The next day was even hotter. It hit 90 degrees. Many of the students were sunburned from the day before, but that didn't slow them down. Some even went swimming in Crescent Harbor off the city dock. Due to high demand, we weren't able to get spaces in our requested field trips, but that didn't matter to us. We took off on our own to further explore the area. As American bald eagles soared overhead in the deep blue sky, we headed for the Alaska Raptor Center. Later we made our way to the Southeast Alaska Indian Cultural Center where we saw numerous totem poles displayed along the park's two miles of woodland trails. We ended our visit Sitka with a tour of St. Michael's Russian Orthodox Cathedral in downtown Sitka.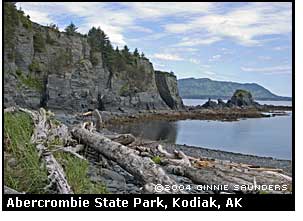 Kodiak
Our next stop was Kodiak, a small Alaskan town (population ~6300) located on the island of Kodiak. Most Alaskans refer to this region as "Bush Alaska," not because the residents support George W, but because the area is much closer to wilderness than to civilization.
After another full day of classes at sea, the Explorer reached the Kodiak pier early in the morning on June 22. We were scheduled to leave again that night, so everyone had just one day to enjoy the rich natural beauty of the area. The weather was much cooler in Kodiak, and I think everyone was grateful for that. Elective field trips included a city orientation followed by a Russian Tea, Kodiak brown bear viewing by floatplane, halibut sport fishing, a rainforest botany hike, and a tour of the Alutiiq Museum. Again, due to high demand and the lottery system of awarding field trips, we didn't get into any groups.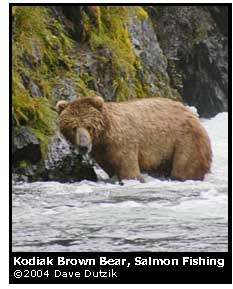 It was just as well, though. We chatted with a local resident who urged us to go hiking at Ft. Abercrombie State Park. It was too far to reach on foot so we called a taxi and off we went. What a magical place! It looked like something out of a fairy tail. Dense stands of rainforest trees (Sitka spruce), their branches dripping with moss and ferns, ran right up to the edge of rocky cliffs. We followed trails through deep woods until they opened up to colorful meadows of wildflowers against a deep blue sky. Other trails led us right down water where we saw weathered rocks and all sorts of marine wildlife. We wandered for four hours until we were hungry enough to tear ourselves away in search of food. We called a taxi from the ranger station to take us back to town.
After a delicious lunch of broiled Alaskan halibut, we walked over to the Alutiiq Museum to view one of the world's most impressive collections of Eskimo artifacts. The museum, which was built with funds from the Exxon Valdez oil spill, oversees an active research and outreach program to collect artifacts and preserve the Alutiiq culture, which was almost wiped out in the 18th century. We also visited the Baranov Museum, which displays a substantial collection of Russian and Alaskan artifacts.
Farewell, Alaska!
We hated to leave Alaska because it was so beautiful, but each new port brings new excitement. We are now visiting Kamchatka Peninsula, in eastern Russia. The Kamchatka peninsula, which is about the size of Japan, is located on the Great Pacific "Ring of Fire." Twenty-nine of its 160 volcanoes are active. We are anchored at Petropavlovsk-Kamchatsky, a port city of 250,000 located on the southeastern shore of the peninsula. The scenery is simply spectacular – we are surrounded by volcanoes! Stay tuned, because there's more to follow with the next installment.
Previous Installment || Next Installment
---
©2002-2008 by Ginnie Saunders. All rights are reserved. No part of this web site may be reproduced or transmitted in any form or by any means — electronic or mechanical, including photocopying, recording, or by any information storage or retrieval system — without written permission from Ginnie Saunders. To learn more about copyright issues on the web, visit the Web Law FAQ.






Ginnie.com, Inc.
PO Box 50314
Columbia, SC 29250
(803) 783-3169
www.ginnie.com