– HECTOR, Revisited –
July 4, 2005 – This week's DaDane is a continuation of a story that ran a few weeks ago. If you missed it, please go back to the beginning before reading on.
A permanent home for Hector
As soon as Nori Warren told me that she and Will were interested in adopting Hector, I grabbed the phone and told Marc we may have found Hector his "forever" home.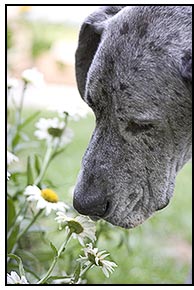 Marc followed up with the Warrens and concluded that they would be absolutely perfect for Hector. But there was a snag. The Warrens had recently sold their house and they were in temporary quarters until their new house was ready for occupancy. It would be about two months before they could move. Until they moved, they could not keep Hector. That meant Hector would have to stay with Becca for an extended period. Could she keep him that long?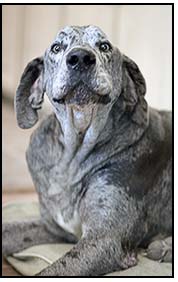 Knowing that she might not be able to, my husband and I offered to foster Hector until Nori and Will were able to take him. (We didn't think Merlin would mind.) As it turned out, Hector stayed in Texas with Becca until it was time to move him to South Carolina. She liked him and he got along just fine with her other Danes. Plus, everyone felt it would be easier on Hector to stay in one place, rather than shipping him off to yet another temporary home. Meanwhile, Nori and Will began covering all of Hector's medical expenses. That way nobody had to worry about how to pay for his costly Addison's injections.
By mid-April the Warrens had moved into their new house and it was finally time for Hector to join them. But he was over 1000 miles away. How could they get him to South Carolina?
Dane T.R.A.I.N. Network to the rescue
Luckily, the Dane T.R.A.I.N. Network offered safe and reliable transport for Hector. The "Dane TRAIN" (Transporting Rescued Animals In Need) is a non-profit organization made up of volunteers from all over the country who provide "round robin" transportation to relocate homeless Great Danes nationwide.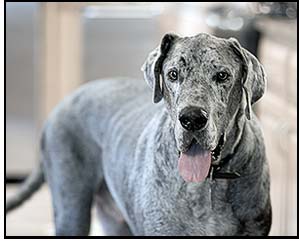 In order to move Hector from Texas to South Carolina, he was first transported by Becca Roberts (his original foster mom) from Killeen to Dallas. In Dallas he was picked up by another volunteer and transported to Arkadelphia, AR. From Arkadelphia he was transported by another volunteer to Brinkley, AR. From there, somebody else took him to Memphis, TN. From Memphis, Hector went to Jasper, AL. In Jasper he was given to somebody else who could look after him for the night.
The next day Hector traveled with another volunteer from Jasper, AL to Bremen, GA. After he reached Bremen he was picked up and taken to Oxford, GA. From Oxford, he went to Norwood, GA, where Nori and Will were waiting to bring him home to South Carolina. Kudos to the nine individuals who volunteered their valuable time and energy to make sure Hector safely reached his new home! Credit also goes to those who coordinated the effort, including Laura Beck and Sarah Curry, who established the Dane T.R.A.I.N. Network in 2003 simply because they saw a need.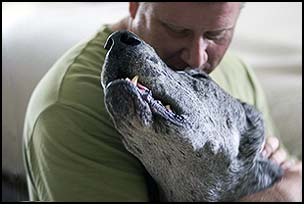 Home Sweet Home
Hector has been living with Nori and Will for almost three months now. When I visited him last week, he seemed deliriously happy. I could swear the dog actually smiles! When I first met Hector, he was pleasant enough, but he was overweight and not very animated. He seemed a bit distant and he slept a lot. Perhaps he was exhausted from all the changes in his life and wondering where he'd be shipped off to next. Nobody could blame him for that. However, he has come to understand that he is finally "home" and life is good. And although Hector obviously loves Nori, it is Will Warren whom he adores. Hector was a "man's dog" and after losing his previous owner, he was more than ready for a new best friend. As soon as they met, Will and Hector bonded. Hector follows Will around the house and hangs on his every word.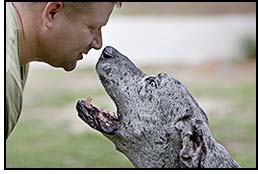 In addition to being extremely happy, Hector is much more physically active now. For the past month he has been taking a low dose thyroid supplement. Nori decided to test his thyroid because his activity level seemed low and his coat didn't look very healthy. Results indicated Hector has "low normal" thyroid function. Since he has been on Soloxine, he's perked up and his coat has improved. He's also beginning to lose those extra pounds.
A Bright Future
At age six, Hector has a lot to look forward to. With monthly shots, his Addison's Disease is easily controlled and he's in great shape. He and Belle continue to enjoy their daily companionship, plus he gets to play with lots of other dogs who drop by to visit. The neighborhood squirrels have finally wised up to the fact that Hector is no ordinary dog. He can reach them along the top of the fence so they stay out of his territory now. And Hector has become something of a neighborhood celebrity, especially with all the children who stop by to see him on a regular basis.
As I write this, Hector is spending the long Fourth of July weekend down at the "river house" with Belle, Will, Nori and other members of her family. It's place where he can freely romp from dawn till dusk, surrounded by his many friends. I'm sure he's smiling. Life doesn't get much better than this.
---
©2002-2008 by Ginnie Saunders. All rights are reserved. No part of this web site may be reproduced or transmitted in any form or by any means — electronic or mechanical, including photocopying, recording, or by any information storage or retrieval system — without written permission from Ginnie Saunders. To learn more about copyright issues on the web, visit the Web Law FAQ.






Ginnie.com, Inc.
PO Box 50314
Columbia, SC 29250
(803) 783-3169
www.ginnie.com