– Dazed by the Daylilies–
June 27, 2005 – I imagine by now you are tired of Paris and ready to see more Great Danes on DaDane of DaWeek. I intended to post a follow-up to Hector's story this week, but I was unable to reach his owners to schedule another photo session. (It turns out they've been vacationing in Canada.) I'm working on a few other Dane stories, but none of them are ready yet, so you poor souls will have to suffer through one more set of flower studies. I promise (cross my heart!) that you will see a Dane next week.
Last Sunday we discovered Jordan's Daylily Farm, just 45 miles from our house. What an experience! We were allowed to wander freely through acres and acres of flowering daylily beds, all of them impeccably maintained and beautifully landscaped by Memory and Bob Jordan, members of the American Hemerocallis Society (AHS). The cultivation and hybridization of daylilies in the United States has evolved to a very popular, yet highly sophisticated, art. There are currently more than 35,000 named daylily cultivars registered with the AHS; we were able to view over 2200 hundred of them at the Jordan's.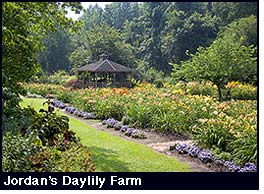 Daylilies come in a variety of sumptuous color combinations and shapes. According to AHS guidelines, daylily colors are defined as self, blend, polychrome, bitone, bicolor, eyed, banded, edged, tipped, midribbed, dotted and/or dusted. Whew!! The flower shapes are defined as circular, triangular, star, ruffled, recurved, trumpet, spider or double. And that's just the beginning.
Well, I have to tell you, I was completely swept away by Jordan's Daylily Farm. It was heaven on earth. While my husband happily shopped for daylilies, I scampered off with my camera. The Jordan's couldn't have been nicer. Mrs. Jordan followed me around for awhile, pointing out and explaining some of the formal variations between cultivars. She obviously loves her craft, and she is quite a teacher.
Last week I revisited the Jordan's daylily farm several times to take advantage of the peak blooming period. The Jordan's seemed to enjoy having a photographer on the premises. I am very grateful to Bob and Memory for allowing me unrestricted access to their gardens. (One morning I showed up at 7:30 and they were already out working the fields!) Below are some of my photographs. As you can see, I like to experiment with wide aperture settings and get really close to the flowers. I was "handshooting" with a prime lens (Canon EF 85mm, 1.8) coupled with a set of +1 and +2 diopters.
The Jordan's use other flowering plants as accents for their daylily beds. Here are a few other blooms that grabbed my attention:
If you enjoyed these flowers, please visit my other web site, www.florigraphy.com.
I will be soon adding some of these daylily photos to the florigraphy line-up.
---
©2002-2008 by Ginnie Saunders. All rights are reserved. No part of this web site may be reproduced or transmitted in any form or by any means — electronic or mechanical, including photocopying, recording, or by any information storage or retrieval system — without written permission from Ginnie Saunders. To learn more about copyright issues on the web, visit the Web Law FAQ.






Ginnie.com, Inc.
PO Box 50314
Columbia, SC 29250
(803) 783-3169
www.ginnie.com