– Am., Can., Int. CH Lagarada Feldmarschall Rommel –
Rommel will be eight-years-young on April 26. He is my first Great Dane and my first show dog. He finished his American championship at the age of 11 months – within just three weeks – with two 3 point majors and a 4 point Specialty major. At the age of 14 months he finished his Canadian championship in 15 shows with 13 Best of Breeds and a Group 3.
When he was just under the age of three, Rommel acquired his International championship with three Best of Breeds, two Group 2s, one Group 3 and "V 1" ratings by every one of the judges.
His disposition and temperament are flawless. One cannot have a more wonderful dog than him! Usually, I am not the "adoring" kind but I DO adore him. Rommel is a perfect ambassador for his breed; he never met a stranger and is pleasant to other dogs (particularly to the little guys). He has raised every puppy that came into our home and showed incredible patience towards them. However, when they became teenagers and they were too "disrespectful", he would just flip them on their backs and sit on them, holding them by their throat. He released them only after they stopped struggling. It was quite comical to watch. He never hurt any one of them. Rommel won't flip my Whippet puppy, Zip, though. He tolerates that little brat, but otherwise ignores him.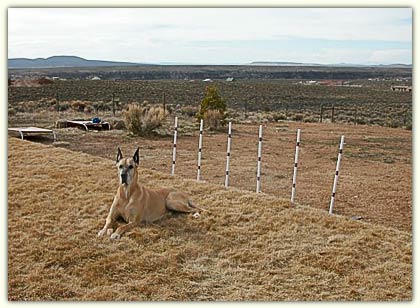 He is extremely gentle with small creatures. Several years ago I watched him through the living room window out in the fenced yard, way back at the north fence. We have a lot of rabbits here. He was just standing there and looked somewhat odd. I went out and called him. When he arrived, his mouth looked really weird. I opened it and, lo and behold, he carried two live tiny baby rabbits in his mouth. He did not put a scratch on them. Of course, they were soaked. LOL. I dried them off and put the bunnies back across the fence for the mother to find. Another time, a grown rabbit was stuck in the fence, with his little butt still in the kennel. It couldn't go to or fro. Rommel just nudged the screaming rabbit gently, without harming it, until I came to set it free. However, with all his gentleness, he still is very much a male.
Rommel shares our home with his bodyguard, Herky, a 13-year-old Cairn Terrier (just recently we had to say our final goodbye to his other Cairn bodyguard, Buster), Maximus (3-year-old Great Dane, CH Von Riesenhof The Gladiator) and Zip (nine-month-old Whippet, Emerald Zatopek).
Rommel looks fabulous and he is in great condition. I hope that I will have him with me for many more years to come.