– P U P P I E S ! –
April 19, 2004 – My friend and neighbor, Cindy Niske, had puppies on April 15. Well, that isn't exactly right. Cindy herself didn't have the puppies, Hallie did. She produced three adorable fawn puppies – two girls and a boy – from a frozen surgical implant breeding. Pictured above is the largest of the three babies.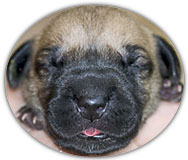 Her two siblings weighed in at just one pound, which I guess is pretty average, but this gal weighed a whopping two pounds at birth. What a honker!
Better Late than Never
Hallie's puppies were expected to appear exactly 60 days after she was bred. When she was three days late, Cindy began to worry – a lot. The doctor told her to wait one more day since Hallie wasn't exhibiting any signs of distress. When there were still no puppies on the fourth day, they were taken by C-section, just as a precaution. The surgery went well and Hallie was able to come home right afterwards. She is now a very proud and doting mother. And for that matter, so is Cindy.
Photo Session
I have never before had an opportunity to view, much less photograph, three-day-old Great Dane puppies and it was very gracious of Cindy to allow me into the nursery. When the biggest puppy finally settled in on her mother's paw for a quick snooze, she provided a terrific "photo op." Of the 40+ photographs I shot yesterday, that one was my very favorite. I hope you enjoy it.
---
Where's BOB?
Speaking of late deliveries, I really should have run last week's piece two weeks earlier, during April Fool's week. Okay, you probably don't want to hear this, but I have to come clean or I won't be able to sleep at night. Neither Bob Dylan – nor a Dylan impersonator – phoned me last Saturday. And to the best of my knowledge, Bob Dylan does not own two blue Great Danes named Elvis and Victoria. Judging by all the comments, it seems few people realized this was nothing but a good-natured spoof. (Of course that made it all the more fun, don't you think?)
Granted, much of what I told you last week was true:
The section about the "zoo-doo" and Merlin?
All true. Every bit.

The Dylan Concert?
That was true, too. We attended the concert just as I described it, and it was wonderful.

The Toads?
True again. They did indeed fool us Saturday night when they slept in, but they appeared Sunday night for Toad Night and it was a spectacular event. (As always.)
Truth or Dare?
I hope y'all don't mind being fooled. I came up with the idea during the Dylan concert. (Goodness knows WHY – perhaps all that aromatic "tobacco smoke" wafting up to us on the balcony from the audience below had something to do with it.) Anyway, I told my husband about my idea on the way home. "Don't even try, " he said, "you'll never pull it off." Well, I considered that a dare, and I decided to meet his challenge. For the ruse to work, though, I knew I needed to write something that sounded almost believable. But it had to be a little outrageous, too, because that's part of the fun. If you go back and reread the story I think you'll agree it was VERY tongue-in-cheek.
Why did so many people believe it? For a couple of reasons, I suppose. First and foremost, it's the kind of story we would all like to believe – and when we'd like to believe something, I think many of us choose to believe it. (Sort of like Santa Claus?) Also, the false information was "dressed up" by a whole lot of truth, so the boundaries between truth and fiction were not very clear. It's easy to focus on the part that's clearly true, and the truth seems to carry the "untruth" along with it. The co-mingling of truth and untruth can be hard to unravel sometimes. That's a good thing to keep in mind whenever we hear a rumor or a political advertisement – or for that matter, whenever we read the newspaper lately in this politically charged climate. (Grin.)
---
©2002-2008 by Ginnie Saunders. All rights are reserved. No part of this web site may be reproduced or transmitted in any form or by any means — electronic or mechanical, including photocopying, recording, or by any information storage or retrieval system — without written permission from Ginnie Saunders. To learn more about copyright issues on the web, visit the Web Law FAQ.






Ginnie.com, Inc.
PO Box 50314
Columbia, SC 29250
(803) 783-3169
www.ginnie.com