– Greetings from India –
March 14, 2005 – India, at last! After thirty hours of travel, including four different flights, we finally reached Bombay at 1:00am on Saturday morning. The Delta flights were reasonably comfortable but the Air France flight from NYC to Paris was a killer. I won't go into the gory details, but shame on Air France. We will avoid them in the future for many reasons. Their greatest shortcoming occurred when they failed to make sure our luggage – four large suitcases – made it onto the flight from Paris to Bombay. This was despite a two hour layover which provided ample time for the transfer. We landed in Bombay with only the clothes on our back and a few things in our carry-on bags.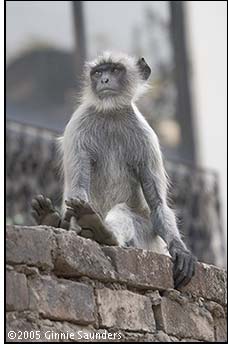 Delta Airlines' office in Bombay did little to help the situation. They promised the suitcases would be delivered promptly the following morning. They were not. It took a couple of days, and a lot of harassment, to get our suitcases. They arrived just in time for our flight to Ahmedabad early this morning.
On way to the airport, while stopped in traffic, we were "accosted' by a pair of attractive sari-clad eunuchs (no, I am not kidding) who approached our taxi. They thrust their bangle-clad arms through the window and demanded a hand-out, which they didn't get. I was under the impression that eunuchs were a thing of the past, but no, they are alive and even thriving in certain parts of India. (You can read more about India's eunuch population here.)
After unpacking at our hotel in Ahmedabad, we decided to do a little shopping. That's when we encountered a large troop of wild monkeys called "kala-bandar" which means "black-monkey" in Hindi. The group was just hanging out by the Kashmiri handicraft store. The shopkeeper explained that the monkeys move around the city freely and they steal whatever food they need, sometimes by sneaking into apartments through open balcony doors or windows. "If the monkeys come, you must shut your door immediately," he warned us. (Don't worry, we will!)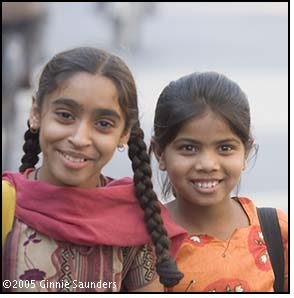 Later on we a walked to a large outdoor market in the old part of Ahmedabad near what's left of the the ancient city wall. It was extremely crowded by American standards, but not too bad by Indian standards. As the only foreigners around, we were a novelty to be stared at. The looks ranged from guarded to curious to friendly, but mostly friendly. A particularly outgoing woman (pictured above with her son) grabbed my left hand and before I knew what was happening, she began stamping it with large decorations using a carved wooden block covered with a greasy black substance. This greatly amused all the bystanders. I made her stop, but by then the damage was already done – my hand had been dyed with henna. I am now sporting a garish orange paisley "tattoo" which the hotel management assures me will fade away in a few days if I keep scrubbing it.
Ahmedabad, primarily a Hindu city, has a highly visible and active Muslim population. As I am writing this, we are listening to a Mullah as he chants the evening call to prayer somewhere outside our hotel on the bank of the Sabarmati River. There must be a mosque close by.
Below are more photos from Ahmedabad:

Next Installment || Previous Installment
---
©2002-2008 by Ginnie Saunders. All rights are reserved. No part of this web site may be reproduced or transmitted in any form or by any means — electronic or mechanical, including photocopying, recording, or by any information storage or retrieval system — without written permission from Ginnie Saunders. To learn more about copyright issues on the web, visit the Web Law FAQ.






Ginnie.com, Inc.
PO Box 50314
Columbia, SC 29250
(803) 783-3169
www.ginnie.com