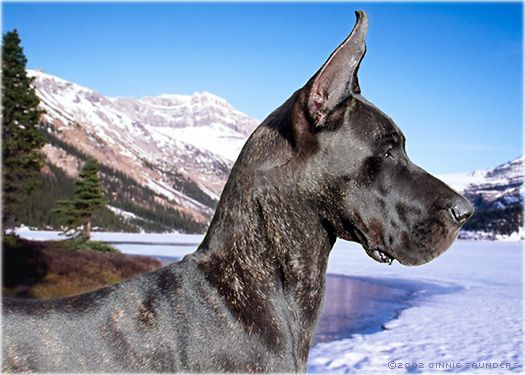 – Onyx Brindle –
March 3 , 2002 – At first glance, if you saw her from a distance, you might mistake 3-year-old Stormi for a black Great Dane. You'd be wrong. Stormi's unusual coloration is a variation of the brindle coat known as "onyx brindle" or "reverse brindle" – a very dark (black) coat with lighter stripes. Once you've seen Stormi in person, you are not likely to forget her. She is a very lovely Great Dane. Her registered name is Ga-Mac's Rainy Day Women CD CGC.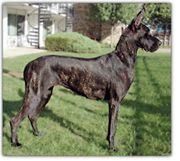 Stormi competes in conformation and she is working on her championship. Her dark brindle coat color makes it a little harder for Stormi to win her points. While her color is within the standard, it is not the preferred color. From what I gather, it's a personal thing – the dark brindling is a real barrier for some judges. Others are able to look past it. To her credit, Stormi has won a three-point major. She has a total of five points, the last two having been put on by her novice owner/handler Lynda Dedrick, who is as nice a person as you'd want to meet.



Stormi lives in Florida with Lynda and her family. She has two "house-sisters" – Dazy, a 12-year-old Basset Hound, and Mattie, a 6-year-old mix rescue. She recently lost her house-brother, Frazier, a 7-year-old mantle Great Dane. She still misses him terribly.



Stormi enjoys obedience training, having obtained her CD in September of 2001. She's also training in tracking and she hopes to obtain her tracking dog title by the end of the year. No doubt about it, Stormi is a well-rounded Great Dane and a nice representative of the breed.


---
©2002-2008 by Ginnie Saunders. All rights are reserved. No part of this web site may be reproduced or transmitted in any form or by any means — electronic or mechanical, including photocopying, recording, or by any information storage or retrieval system — without written permission from Ginnie Saunders. To learn more about copyright issues on the web, visit the Web Law FAQ.






Ginnie.com, Inc.
PO Box 50314
Columbia, SC 29250
(803) 783-3169
www.ginnie.com