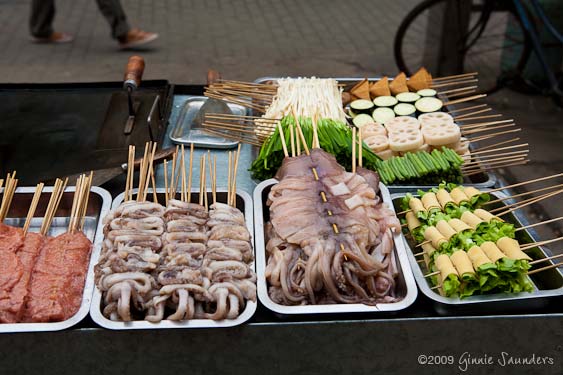 — Another Week in Shanghai —
March 23, 2009 – Two weeks in Shanghai with two more to go! Last week I showed photos of the yummy street food, but unfortunately I haven't tasted any of it. Although it is perfectly safe to eat food from Shanghai's thousands of street stalls, for me such food is off-limits. That's because I was diagnosed with Meniere's Disease about 18 months ago. Most Meniere's patients, myself included, must strictly limit their daily sodium intake in order to minimize their symptoms. That's not so hard to do when you're cooking for yourself, but eating out is another story, and eating out in China — well, you can forget that!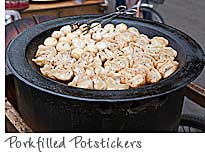 Sick in (but not of) Shanghai...
Chinese cuisine, while truly delicious, contains a lot of sodium in the form of soy, salt and/or MSG. Almost immediately, I began to feel the negative effects of increased sodium in my diet. Within a week — in fact shortly after I posted last week's installment — I was knocked flat on my back by a severe (and I do mean severe) rotational vertigo attack. Violently dizzy and horribly nauseated, I literally couldn't lift my head off the pillow for 7 hours. Thank goodness I was still in the hotel room when it hit.
Chinese hospitality...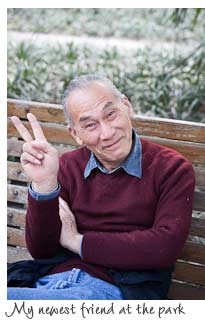 As soon as our Chinese hosts realized the seriousness of my "food problem" special arrangements were made. They moved usto the Jin Sha Hotel where the nice hotel manager (he's really great!) called a meeting with the kitchen staff. At Jin Sha we can now eat without worry, ordering whatever we want from the hotel restaurant's extensive menu, confident that the food is carefully prepared to exclude any and all sodium products. My condition has improved and I'm feeling pretty good!
Shanghai's park scene...
I've spent a good bit of time in several of the lovely parks scattered around Shanghai. People-watching is great fun and I find the younger children particularly captivating. Equally captivating are the older folks who show up early in the morning to practice Tai Chi. Their movements are slow and graceful; their concentration intense. As the day wears on I usually see several scattered groups of adults "ballroom dancing" to music from a portable boom box. It's a very popular pastime here. Games are also common in the parks, everything from Mahjong to Xiangqi (Chinese chess). Occasionally I'll stumble upon a group of fan-dancers, and more rarely, a sword dancer. There's always something to see.
My Shanghai park gallery...
I compiled a "slide show" of park photographs for you to look at. (I think it's pretty nice!) Just click here or click on the photo below: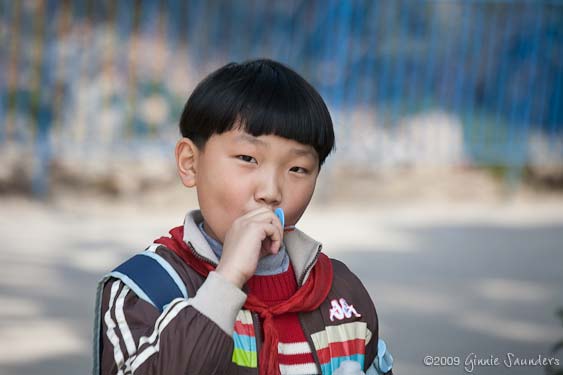 Next Installment :::  Previous Installment


---
©2002-2008 by Ginnie Saunders. All rights are reserved. No part of this web site may be reproduced or transmitted in any form or by any means — electronic or mechanical, including photocopying, recording, or by any information storage or retrieval system — without written permission from Ginnie Saunders. To learn more about copyright issues on the web, visit the Web Law FAQ.






Ginnie.com, Inc.
PO Box 50314
Columbia, SC 29250
(803) 783-3169
www.ginnie.com