— Miss Charlotte, Alive and Well —
March 9, 2008 — Lately, life has been full of small pleasures. (And some big ones, too!) I recently visited Charlotte at her new home outside Atlanta. Two months ago we sent Miss Charlotte off to live with Ted Turner's mute swan, Mr. Huey. We did so to protect her from our local predators who, at the time, were picking off our flock of waterfowl one by one. What better place to send her than to Ted Turner's country estate? (Read the story)
Mr. Turner's land manager, Steve, had negotiated the deal for Charlotte. When he drove over from Atlanta to collect Charlotte he suggested we might like to visit her once she's settled in with Huey. Last week I took him up on his offer.
Visiting Charlotte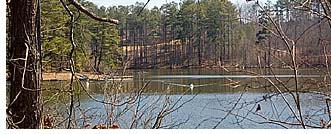 The driveway into the property was long, winding and well forested. I finally caught a glimpse of the pond through the trees. I could see two white birds swimming in the distance. I stopped the car and walked over to the bank. The smaller of the two birds had to be Charlotte. I decided to call out her name to see if she'd react. It seemed a silly thing to do because Charlotte never gave us the time of day when she lived with us, and she certainly never came when called. To my utter amazement Charlotte started steaming across the 28 acre pond, directly towards me. And she was really chugging along! When she finally reached the shore she looked up at me as if to say, "What took you so long?" She then spun around a few times to show me how good she looked and she followed along in the water as I strolled the bank. If anything can make you feel good, it's discovering that a pet you gave up is healthy, living happily and remembers you fondly.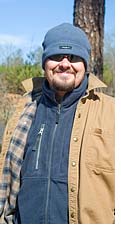 I climbed back in the car and continued on to the house. Steve was waiting. He greeted me warmly and we walked down to the edge of the pond. I hollered for Charlotte. She immediately started paddling towards us from the other end of the pond where I had left her. Huey, meanwhile, was ignoring us. He was amusing himself by chasing off every Canada goose in sight. Apparently Huey spends much of his day running off interlopers to keep the pond private for himself and his new-found friend, Miss Charlotte. (It's a never ending battle, though, because those dang geese just keep coming back!)
Steve dumped a load of food — laying pellets and whole corn— along the shoreline. This attracted Huey, so I was finally able to meet him. The two swans looked wonderful together.
Charlotte continued to interact with me. She followed us as we walked onto the dock. Steve tossed out some floating catfish food and Huey made a beeline for it. He gobbled it down greedily while Charlotte, who was never big on fish food, nibbled.
Life's Simple Pleasures
Soon it was time to go. I thanked Steve profusely for letting me have this visit with Charlotte. It's nice, now, to be able to picture her in her new home. She has unfettered access to a huge unspoiled pond, ample food, a new best friend (Huey) and a new caretaker (Steve) who will make sure she remains happy and healthy. It doesn't get any better than that!
---
©2002-2008 by Ginnie Saunders. All rights are reserved. No part of this web site may be reproduced or transmitted in any form or by any means — electronic or mechanical, including photocopying, recording, or by any information storage or retrieval system — without written permission from Ginnie Saunders. To learn more about copyright issues on the web, visit the Web Law FAQ.






Ginnie.com, Inc.
PO Box 50314
Columbia, SC 29250
(803) 783-3169
www.ginnie.com