— Colras Full Attention Req'd v. CJ —
October 8, 2007 — The 2007 GDCA National is right around the corner. I'm sure everyone who's planning to attend is getting pretty excited by now. I know I am! It will be good to see old friends, make new ones, and, of course, spend a week with some of the world's most magnificent Great Danes. (What could be better?) This year's National runs from October 20-27 at the Lancaster Host Resort & Conference Center in Lancaster, PA. I hope to see you there.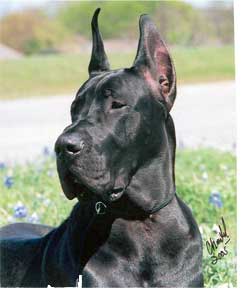 It's Tiger!
Pictured above is Chantel Johnson (who we all know and love) handling her splendid boy, Specialty HIT Colras Full Attention Req'd v. CJ, CD, RN, TDI, CGC in Open Black Dogs at last year's National. Tiger placed first in his class and he earned his Companion Dog title that very same week. Much has happened in the Johnson household since last October. Chantel and her husband, Stacey, are zoo industry professionals. Last January the Johnsons moved from Texas to Pennsylvania after Stacey was named Executive Director of the Lehigh Valley Zoo.
Documenting their three day drive, Chantel wrote, "Stacey drove a 26 foot U-Haul truck carrying all our stuff and pulled a car-trailer behind with his old Explorer in tow.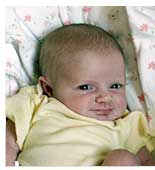 He had the two macaws in a crate on the front seat of the truck with him and the oscar (a large South American fish) in a 5 gallon bucket on the floor. I followed, driving my mini-van in the company of our three dogs and all of our overnight gear."
Celeste Dane Johnson
The Johnson's pets weren't the only precious cargo being transported to Pennsylvania. Chantel was seven months pregnant! Celeste Dane Johnson was born on March 15, 2007 during an Ides of March snow storm. When she came home from the hospital Celeste's new fur brothers — Tiger, Oakley and Jack — greeted her with loving enthusiasm. Some would say it was love at first sight. The Johnson's many friends from around the country are looking forward to greeting Celeste for the first time at this year's National. I predict that as she grows up Celeste will follow in her mother's footsteps and become a familiar sight in the show ring.
---
©2002-2008 by Ginnie Saunders. All rights are reserved. No part of this web site may be reproduced or transmitted in any form or by any means — electronic or mechanical, including photocopying, recording, or by any information storage or retrieval system — without written permission from Ginnie Saunders. To learn more about copyright issues on the web, visit the Web Law FAQ.






Ginnie.com, Inc.
PO Box 50314
Columbia, SC 29250
(803) 783-3169
www.ginnie.com