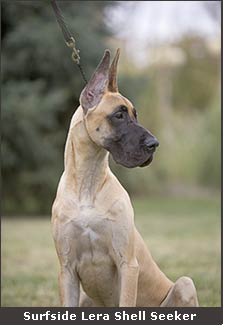 October 30, 2006 – Oh my, are you still with me? I can't remember the last time since I missed a weekly installment. I'll explain why, later.
Kudos to all!
The 2006 Great Dane National in Topeka, hosted by the Mid-West Division, was truly superb. The venue was outstanding (once you finally got there) and the committees made sure everything ran smoothly. They should all be applauded.



The Hospitality Committee deserves special recognition for providing the most robust and delectable "spread" I've seen at any National. Everybody was raving about the endless abundance of wonderful food. The Hospitality Room took care of me during my hurried lunch breaks. (Otherwise, I might have starved to death!) I am beyond grateful.



Char Knowlton was in charge of the Hospitality Room and she herself did most of the actual baking. Unless you were there, you can't begin to imagine the wide range of extraordinary delectables that were provided, free of charge, to the hungry masses.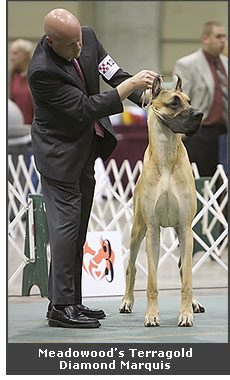 Rumor has it that over a four month period Char stockpiled FOUR ENTIRE FREEZERS full of cakes and bundts, and I believe it. Even more astonishing is the fact that Char's cakes contained no sugar, plus they were low fat. Char told me that as a diabetic she was committed to providing tasty, low sugar foods at the National — and she delivered!
Recipes, anyone?
I would love to see a collection of Char's recipes offered as a fundraiser for the Mid-West division to offset some of their Hospitality expenses. (They must have spent a fortune.) I think most of us would line up to obtain a cook book featuring those delicious cakes. If a cookbook is offered, I'll be more than happy to promote it right here on DaDane of DaWeek.
Running Behind
All my days (and many of my evenings) at the National were spent behind the camera. I wanted to photograph as many of the participants as possible. I was shooting in raw format with the 12.3 megapixel Canon 5D. By the time I left Topeka, I had accumulated over 8,000 high-resolution photographs on 100+ gigabytes of storage. Along with my photos and luggage, I brought something else back with me — a horrid respiratory virus. It really knocked the stuffing out of me. I am only now getting back on my feet. And that, my friends, is why you've seen so few pictures lately.
---
©2002-2008 by Ginnie Saunders. All rights are reserved. No part of this web site may be reproduced or transmitted in any form or by any means — electronic or mechanical, including photocopying, recording, or by any information storage or retrieval system — without written permission from Ginnie Saunders. To learn more about copyright issues on the web, visit the Web Law FAQ.






Ginnie.com, Inc.
PO Box 50314
Columbia, SC 29250
(803) 783-3169
www.ginnie.com