— My New Studio –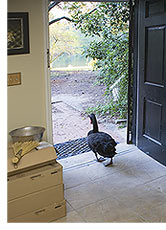 October 2, 2006 – My art studio has been undergoing extensive renovations for the past two months. Although the work is far from complete, the space is finally habitable so last week I was able to move back in. Yesterday evening I left the front door open to take advantage of the cool Autumn breezes. I was in another part of the house when suddenly I heard my pet swan, Boo-Boo, trumpeting. It sounded like she was using a megaphone! I dashed downstairs to see what was wrong. From Boo Boo's point of view, I needn't have bothered. All was well in her world. I found her happily "nesting" in the middle of my studio. Apparently the open door was more than she could resist, so she'd waddled on in. Then, after inspecting my new office, she decided to sit down and sing for awhile. Unfortunately, swans (being waterfowl) are notorious for "recycling" their water on a continuous basis. As such, my new studio underwent a thorough christening. (Oh, Boo-Boo, how could you?!) Luckily the new floor is tiled. Boo-Boo was politely asked to leave, and I shut the door firmly behind her.
Tired of Show Dogs?
Speaking of polite requests – or a lack thereof – last week's comments became pretty lively after an anonymous visitor complained about my ongoing coverage of the 2005 Nationals. Please take a moment to read what was said last week:
Though I seldom contribute personally to the comments area, I read each comment with great interest – and I really enjoy them. I consider this to be an open forum; all opinions are welcome here. I was not surprised to field a complaint about "excessive" National coverage – frankly, I expected it sooner. Granted, the tone of the complaint left a lot to be desired, but I am sure "Tired" is not the only person in the audience who is "sick to death" of looking at Danes from the National. I'm sorry they feel that way. I am doing the best I can under the circumstances, that's all I'll say today. Everything else has been said in the comments section. Feel free to contribute.
AND NOW, ON WITH THE SHOW...
— Best of Breed Judging, Part 3 —
Best of Breed, Part 1 || Best of Breed, Part 2 || Best of Breed, Part 4
Conformation, Part 1 || Conformation, Part 2 || Conformation, Part 3
Conformation, Part 4 || Conformation, Part 5| || Conformation, Part 6
Top Twenty || Futurity || Parades || Agility || Best of Winners
2005 Best of Breed Judging, Part 3
Friday, October 21
CH ORLEANS WHISPER OF CHIMO TX-C

CH WITAMYS PROMISE KEPT V CISCO

CH DANEDREAMS FOREVER YOUNG

CH TALLY HO GUENIEVRE


CH OWLWATCH ALL THAT JAZZ


???
CH GILHAM'S HOLLY GOLIGHTLY


CH SURFSIDE GOOD AS GOLD


CH ROJON'S BELIEVE IN MAGIC


CH ROJON'S BELIEVE IN MAGIC


CH ROCKBRIDGE CHARLI ANGEL AJ MAGNUS


CH ROCKBRIDGE CHARLI ANGEL AJ MAGNUS


CH WIEDANES TOOTSIES ORCHID LOUNGE
---
©2002-2008 by Ginnie Saunders. All rights are reserved. No part of this web site may be reproduced or transmitted in any form or by any means — electronic or mechanical, including photocopying, recording, or by any information storage or retrieval system — without written permission from Ginnie Saunders. To learn more about copyright issues on the web, visit the Web Law FAQ.






Ginnie.com, Inc.
PO Box 50314
Columbia, SC 29250
(803) 783-3169
www.ginnie.com