– Sam's Journey, Part 2 –
( Previous Installment | Next Installment )
July 25, 2005 – If dogs could talk, Sam would have many stories to tell, and probably a few of his stories would make us weep. Something very bad happened to Sammy while he was restrained by a collar and leash. Perhaps he was abused while chained to a tree. We'll never know exactly what Sam endured, but it left him emotionally scarred.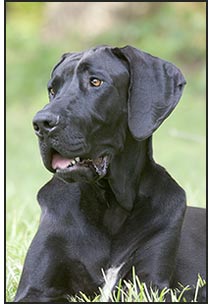 When Sammy came to stay with us a week ago, he was very timid. It didn't take long to understand that he was afraid of his collar and ready to collapse when a leash was hooked to it. The jingling of his dog tags added to his terror. Sammy's response was to hunker down and try to wrap himself against whoever was holding his leash. When I tried to walk with him, he literally clamped his body against my side and almost knocked me down a few times as he tried to hide between my legs. The ride from Alabama to South Carolina must have been agonizing for him, mainly because he was wearing a big fat collar and he was, of necessity, hooked to a leash every time he was transferred from one Dane Train vehicle to the next.
Almost all of Sam's time with us as a foster dog has been spent in the house. Stripped of his scary collar and leash, he could finally relax. However, his "recovery" was always interrupted when it was time to go outside because he had to wear the dreaded collar. Stupid me, it took five days before I realized there was a simple solution to his problem.
Sammy now wears a stylish black harness 24 hours a day and it doesn't bother him a bit. I use a very short leash with him because a regular leash still makes him nervous. I realize, of course, that the harness doesn't resolve Sammy's deep-seated fear of collars, but it gives him the opportunity to enjoy his time with us and it will make his trip to Canada much more comfortable.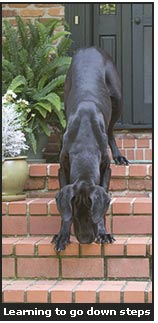 Off to Canada
Sam was supposed to leave for Canada this past weekend, but there weren't enough volunteers to make a successful run. We're hoping to get him there next weekend instead. As of July 24 volunteers were still needed for the following legs of Sam's trip:

Saturday, July 30


Durham, NC to Exit 12, I-85, South Hill, VA


Exit 12, I-85, South Hill, VA to Richmond, VA

Sunday, July 31


Wilmington, DE to Philadelphia, PA


Philadelphia, PA to Exit 95, I-476, I -80 crossroads


Exit 95, I-476 to Binghamton, NY
Several people expressed interest in becoming a Dane Train volunteer. If you'd like to help with Sam's transport (or any future transports), please fill out Dane Train's transportation application. If you would like to become a foster volunteer, please fill out their foster home application.
Many of you are wondering where Sam will be staying in Canada. Some of you have even inquired about adopting him. Sammy is going to Birch Haven Rescue and Rehabilitation Services in Oxford Station, Ontario. He will be living on 146 beautiful acres with Gwendilin Boers, who owns and operates Birch Haven.
She writes:
Sam will be available for adoption but not until he's had a full exam by our veterinarian to confirm that he is healthy, and only after we do a proper and formal behavioral assessment on him. We want to be sure that we place Sam in the best possible home based upon his needs and personality. He will come to live in our house as a member of our family while we fully evaluate him and address his needs.

At that point he will stay with us and go up for adoption or he'll be placed in a 'great match' foster home while he awaits his forever new home. He sounds like he needs confidence boosting and so we will take things at his own pace. We do not kennel any of the Rescues that come to us. Sam will be treated as a cherished member of our family.

— Gwen
gwen@birchhaven.org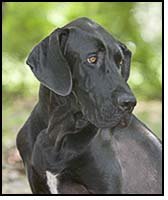 Birch Haven sounds like a wonderful place for Sam. Although I think he could be reasonably content living with us permanently, he deserves professional-level therapy to help him overcome his fears, therapy that I can't possibly give him. I think he'll get all the help he needs at Birch Haven. Gwen's educational background is in criminology and psychology, with specializations in animal and child psychology. She also possesses a medical background and has many years of rescue experience.
I have become very attached to Sammy, and he to me. He is a sweet and gentle creature. Saying goodbye will be hard, but I know it is in Sammy's best interest to send him off to Gwen. He'll be moving that much closer to a bright and happy future.
Previous Installment | Next Installment
---
©2002-2008 by Ginnie Saunders. All rights are reserved. No part of this web site may be reproduced or transmitted in any form or by any means — electronic or mechanical, including photocopying, recording, or by any information storage or retrieval system — without written permission from Ginnie Saunders. To learn more about copyright issues on the web, visit the Web Law FAQ.






Ginnie.com, Inc.
PO Box 50314
Columbia, SC 29250
(803) 783-3169
www.ginnie.com