– CH VZTop's Ivey of Seventh Heaven –
by Cathy Allen
Years ago, while attending a local dog show in Monroe, Louisiana, I ran into the most beautiful Great Dane brindle bitch I had ever seen, VZTop Amber N' Onyx. I talked with her owner and got all the necessary information in hopes of one day owning a puppy out of Amber. We corresponded for awhile, but hard times fell upon the owner, and sadly, I lost track of her.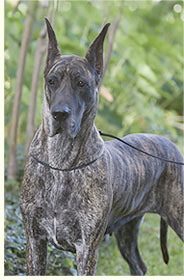 Later on my husband and I decided it was time to add a new puppy to the household because our bitch, VZTop Pippi Longstocking, was six years old. We called Pippi's breeder, Lorraine Rainwater (VZTop), and asked to be put on her puppy list for a fawn boy or fawn girl. Lorraine asked me if we would consider a brindle bitch. She referred me to Cindy Niske (Seventh Heaven) in South Carolina. After getting to know each other over the phone, Cindy invited us to meet four-month-old "VZTop's Ivey of Seventh Heaven" at a dog show in Atlanta. My husband was set on a fawn puppy, but he was willing to drive all the way from Louisiana to Georgia just to let me to take a look at Ivey.
When I learned that Ivey was out of Amber, I knew that this girl was for us. To this day, I still remember how stunning her mama, Amber, was. (That brindle color gets under your skin.) At the show, Ivey immediately fell in love with my husband. She sat in his lap ringside and gave him kisses. The feeling was mutual. Needless, to say, we came home with that beautiful brindle girl. She never once cried or whined during the long drive back to Louisiana. It was like she knew that fate had put us together and her new parents would treat her like a Queen.
Aunt Pippi took to the "mother role" right away. She was still very active and enjoyed the youngster's company. She and Ivey became best buds. For us, there was ear tapping and potty training. Our days were very busy, but Ivey was most easy and so laid back. She didn't even require a crate.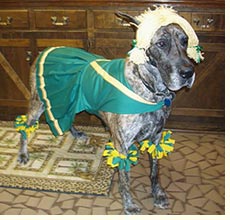 Ivey adored our grandchildren. She would play for hours with them and when she was pooped-out, she would crawl up on her bed for a long nap, forgetting any noise that was made. The girls always wanted to make her collars out of anything they could find and call it her jewelry. They placed sweat bands on her legs for her socks. Ivey enjoyed all the attention. To this day, she will pick out the children in a crowd and be eager to meet with them.
Ivey was our very first show puppy. She and I enrolled in puppy class, then conformation class, and soon we were off to showing. Outside the ring Ivey was always interested in everything around her, especially anyone who would give her a kiss on the lips. Inside the ring, Ivey was handled by Mama Terri (Gale). Ivey loved having Mama Terri at the end of her lead and Terri could always turn Ivey's charm on. They made a fine pair – and I became hooked on showing!