– Dead Dogs Don't Cry –
January 16, 2005 – Some of you may recall a story I ran last year about a Great Dane named Sheva. Her owners, Linda and Jerry Dunham, live in Austin, Texas. I try to stay in touch with the Dunhams because I really like them.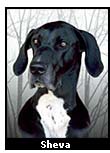 My mother would have characterized Jerry, had she ever met him, as a "Good Egg." That was what she called certain people who she felt were especially nice – nice from the tip of their nose to the tip of their toes. (As you'll soon see, Austin, Texas, is home to a lot of Good Eggs.)
Anyway, Jerry is VERY active in Great Dane rescue and he sometimes emails me about certain cases. Jerry recently forwarded information about a young brindle Great Dane (mix) from the Austin area who, exactly one month ago, was found lying in a shallow ditch next to a busy road. Nobody knows how long he had been there. Those who had spotted him as their cars whizzed by assumed he was dead, but nobody actually bothered to check. Nobody, except one person – one exceptionally "Good Egg." She happened to notice a glimmer of light reflected back from the dog's face when her headlights caught him that fateful evening. Dead dogs don't cry. She pulled over. And that's when she met Duke.
Determined to Live
Duke was very weak and horribly injured. She tried to lift him into her car. A passerby saw her struggling and stopped to help, telling her he'd seen the dog lying there for days as he – and others – drove on by. Like everyone else, he had assumed the dog was dead.
Duke was rushed to a nearby clinic. Monika Hill, an independent animal rescuer who works in the Austin area, was present when he arrived:
"Duke was transported to the Lone Star Animal Clinic in nearby Cedar Park. I happened to be there, and I will never forget the moment I saw him in the back of that Good Samaritan's vehicle.

His left front leg was broken and bent at a grotesque angle. Swollen and openly fractured, the bone was visibly protruding. His body was nothing more than a skeleton, his huge head swaying above bony shoulders. Still, he tried to get up and greet us, gently wagging his tail.

Dr. Gundula Barnett, the clinic's owner, dropped what she was doing and examined Duke. Besides the compound fracture of his leg, there was a large open wound near Duke's rectum. This turned out to be an area where infection from a fractured pelvis had been draining. Also, the skin on Duke's muzzle was raw from abrasion.

Dr. Barnett started working on Duke right away. Among other things, he was injected with pain medication and his leg was splinted. He spent the night sleeping comfortably on many layers of quilts – safe and warm, at last.

In the days that followed, Duke's X-rays were evaluated by one of Austin's finest veterinary orthopedic surgeons. He estimated the fractures to be 2 to 3 weeks old. Duke had been very determined to survive! Unable to bear weight on his leg or his hips, he had evidently propelled himself forward using his muzzle. That's why it was so raw.

Dr. Barnett and the orthopedic surgeon were impressed by Duke's strong will to live. They decided to do everything possible to give him a chance for a new life. After two major surgeries, Duke's fractured pelvis has been repaired and he is learning to walk again. He will require physical therapy and perhaps a few more operations, but he has a promising future."
Duke's Medical Care
When I read about Duke, I had a big lump in throat – as I am sure many of you do right now. I asked Jerry Dunham if he could contact Dr. Barnett to find out more about Duke's situation. He did so, and this is what he learned:
"Duke arrived at Lone Star Animal Clinic on December 16 just as they were getting ready to close for the day. Dr. Barnett cleaned his wounds, splinted his fractured leg, and began treating the abscesses that had developed while he was lying helpless by the roadside. She thought his leg was so badly damaged it might have to be amputated, but Duke responded well to her efforts. She decided to bring in an orthopedic specialist for further evaluation. Duke's radius and ulna were in bad shape. There wasn't much to work with, but they decided to give it a try.

During the first of two major surgeries, Duke's broken pelvis was repaired. Loose shards of bone were causing further damage and encouraging infection. These were removed so the real healing could begin. Later on, Duke underwent his second major surgery. The orthopedic specialist reassembled Duke's front leg using special steel plates that he'd had custom made just for Duke. So far, the complicated procedure seems to have worked.

As to the nature of his injuries, Dr. Barnett speculates that Duke was hit from behind by a car and thrown through the air. He probably landed on his left leg, which then shattered from the impact. The driver of the vehicle obviously hadn't bothered to stop and help."
Where did Duke come from?
Though he was found with a collar bearing his name, Duke had no tags and his original owner has not been found. He is a young dog, probably less than two years old. He needs a forever home. Early on, someone expressed an interest in adopting Duke and helping with the vet bills, but this person is a little overwhelmed by the cost and responsibility of taking on a dog so seriously injured. And understandably so.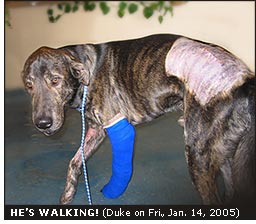 As you might have guessed, Duke's medical expenses have been substantial. The orthopedic surgeon gave a generous discount for his services, but even with a discount, specialized orthopedic surgery isn't cheap. Dr. Barnett has been carrying the physical and financial burden of Duke's medical needs herself. Thus far, her out-of-pocket expenses have exceeded the $3000 mark. As it happens, Dr. Barnett opened her practice just last spring. She has a clinic to support, and a family. She is in no position to fund the entire cost of Duke's surgeries and recovery.
Fortunately, she won't have to.
Monika Hill (who you met earlier) and Briana Stringer, a professional dog-trainer from Austin, have used their considerable talent and networking skills to help raise money to offset Duke's expenses. As of last Friday, approximately $2500 has been donated to Dr. Barnett's clinic in Duke's name. Now that's impressive!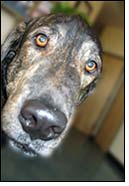 Duke's Fund
Duke is "more Dane than dog" – but even if he wasn't, I'd love to see the Dane Community lend a helping hand. Dr. Barnett has established a special account called "Duke's Fund." Monies collected on Duke's behalf will go into this fund to help offset out-of-pocket expenses associated with his medical care. Any money collected above and beyond Duke's medical needs will be held for future needy rescue cases.
Dr. Barnett doesn't expect to encounter another case as unique and dramatic as Duke's – it's a miracle he even survived – but she is sometimes asked to treat strays with major medical problems. She always does what she can. Duke's Fund, until it runs out, will be used to pay for medical supplies needed for the treatment of other homeless dogs brought to the clinic. Meanwhile, Dr. Barnett's time and expertise will continue to be donated for those rescue cases, just as it was for Duke.
If you would like to help, please send your contribution to:
DUKE'S FUND
Lone Star Animal Clinic
601 E. Whitestone Blvd, Suite 632
Cedar Park, Tx 78613
512-260-5888
Or, you can also visit Briana's web site to make a contribution via PayPal.
If you are unable to contribute financially, how about sending a nice card to Dr. Barnett and her wonderful staff to let them know how much those of us in the Dane community appreciate their efforts to help Duke? They probably don't hear it often enough.
The Latest News on Duke
Thursday, January 13, 2005 – Jerry Dunham met Duke in person for the first time. He writes:
"Linda and I visited with Duke this morning, and he's doing a lot better. He's now ambulatory so the staff is able to take him for short walks 2 or 3 times a day. Walking is not yet pain-free, but it's good for him and he seems to enjoy the walks, even though he limps. Duke seems a little shy around new people, but he's become very fond of his caretakers. The gal who wanted to adopt him earlier is eagerly waiting for his release from the clinic so she can take him home. Thanks to everyone for the great support Duke's gotten so far! He's gone from being a very unlucky dog to being a very lucky one."
Friday, January 14, 2005 – Briana Stringer visited Duke the following day when she went to the clinic to drop off donations from her web site:
"He is a real sweetheart and doing just great! He was walking around, coming out of his kennel to visit with people and getting very excited, jumping up on the kennel door (probably not a good thing for him to do with his hip and leg still healing) to get more attention as we stood looking at him and talking about him."
Friday, January 14, 2005 – When Jerry phoned Dr. Barnett for additional information to help me with this story, he learned that:
"Duke's leg is showing signs of increased tenderness, so tomorrow Dr. Barnett will unwrap it, clean the wound, and take X-rays to make sure everything is still okay. She thinks the soreness may be due to all the visitors this week. Duke feels he has to get up to greet them. If the X-rays show a problem, they may have to go back into surgery to deal with it. If not, it's just a matter of fewer visitors, more time, and continued good care."
Tuesday, January 18, 2005 – An update from Monika Hill:
"I went by Dr. Barnett's office and she had already unwrapped Duke's leg and taken X-rays. Everything seems to be healing quite well – she was very pleased. The big hole in his leg has closed up already and he is moving around well. I have offered to take him to hydro-therapy at a vet in Round Rock who has set-up for such a thing. It will probably be a little while before that can be started, but Dr. Barnett thought he would benefit from it."
For those of you who are interested, I'll post additional updates as more information becomes available. Any reports coming in this week will be added to the "News" box above.
( see next installment )
---
©2002-2008 by Ginnie Saunders. All rights are reserved. No part of this web site may be reproduced or transmitted in any form or by any means — electronic or mechanical, including photocopying, recording, or by any information storage or retrieval system — without written permission from Ginnie Saunders. To learn more about copyright issues on the web, visit the Web Law FAQ.






Ginnie.com, Inc.
PO Box 50314
Columbia, SC 29250
(803) 783-3169
www.ginnie.com