– The Apollo Of Dogs –
October 4, 2004 – Once again, all across the country, Great Danes and their owners are gearing up for the Great Dane Club of America's National Specialty. This year's National, which is hosted by the GDCA's South Central Division, will take place October 18 through October 23 in Fort Worth, Texas.
The public is welcome to attend and admission is free. It's a wonderful opportunity to see many of the world's top Great Danes competing against each other in various categories. Over 600 Great Danes have been registered to compete this year. It should be quite a show.
The theme of this year's National is "The Apollo of Dogs." Pictured above is a pair of bronze sculptures by my favorite contemporary sculptor, Louise Peterson. These impressive figures will make their debut guarding the entrance to the main exhibition tent at the Nationals.
Louise has this to say about them:
"Apollo was the most beautiful of the Greek gods, and it is certainly from this that the Great Dane takes its epithet. But Apollo also represents harmony and civilization, and as the leader of the Muses is the original patron of fine arts.

After learning that the theme of the 2004 Great Dane National Specialties was The Apollo of Dogs, I was inspired to create a very classical sculpture of the Great Dane. I immediately envisioned a sphinx-like pose, a centuries old favorite of sculptors for formal pieces. I was also influenced by other Egyptian imagery, including cat and jackal sculptures. The sphinx pose is also well suited to Great Danes, because it is one they commonly assume in actuality. It is certainly a comfortable position for my Bella. In my final pieces, the natural ear version brings to mind the classic Sphinx, with the ears lying at the sides of the head like the royal headpiece. The cropped version evokes an image of Anubis, the Egyptian god often represented as a reclining jackal. Although I sell the pieces individually, my real desire is to see them together as gatekeepers, where the natural elegance of uncropped ears can be compared to the formality of the cropped.

My interest in a classical work went beyond just form, and included material. After a recent visit to the Metropolitan Museum of Art, I was struck by the very classical marbles of the 18th and 19th century European sculptors. Of course, carving in marble requires entirely different skills than sculpting in clay. Once material is removed it cannot be replaced. My method of sculpting in a soft clay which will be molded and cast is much more forgiving. Also, a marble carving is a one-of-a-kind piece that cannot be sold as an edition.

I've tried in the past to work with various cast stone materials, primarily plasters and cements. I've never been satisfied, however, either with the appearance or durability of the results. I have recently discovered a new material, however, a resin with a high content of quartz crystals. This material closely resembles some natural marbles when cast, and is of similar durability even when displayed outdoors. It even feels like natural stone; I hate the feeling of plastic! This is a wonderful material for The Apollo of Dogs.

I have also cast these pieces in bronze. Their smooth surface and classic form have allowed me to explore patinas that are not suitable for the majority of my work. Two bronze pairs with a patina suggesting natural stone have already been accepted into juried art shows."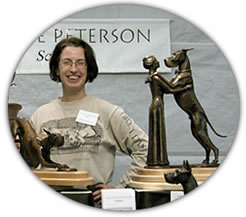 As in previous years, Louise is a corporate sponsor of the GDCA National Specialty. She will be exhibiting a wide selection of her Great Dane sculptures at her sales booth near the main ring and several new pieces will be on display. If you'd like to preview her work, you can visit her web site at www.danesculptor.com.
I have been a big fan of Louise's work for a long time – and I am not the only one. Her work is included in scores of private collections all across the United States. She also has a stellar exhibition record for her Great Dane bronzes, having accumulated 35 awards in less than four years. (And the awards keep rolling in!)
I personally own the 17-inch "Shall We Dance" and the 34-inch "Bella and the Bug," both of which I just love. One of the newest sculptures – Senior Moment – may have to be my next acquisition. In addition to its beautiful form, this bronze reminds me of Danes I have loved and lost. Leonardo DaVinci once wrote, "As a well-spent day brings happy sleep, so life well used brings happy death." That might be a fitting quote for this work. I think so, anyway.
---
©2002-2008 by Ginnie Saunders. All rights are reserved. No part of this web site may be reproduced or transmitted in any form or by any means — electronic or mechanical, including photocopying, recording, or by any information storage or retrieval system — without written permission from Ginnie Saunders. To learn more about copyright issues on the web, visit the Web Law FAQ.






Ginnie.com, Inc.
PO Box 50314
Columbia, SC 29250
(803) 783-3169
www.ginnie.com