QUEEN NANDI ZULU
February 3, 1993 - April 28, 2004
Nandi chose me as her caretaker when I went to see her at seven weeks old. I picked her up and she smothered me in kisses. She continued to kiss me for eleven more wonderful years. Although she had a few problems as a puppy (endotropian surgery and panosteitis) she was incredibly healthy from the age of two onwards.
During the first three years of Nandi's life I had a dog walking business in Los Angeles and she enjoyed morning hikes, afternoon dog park socials and constant doggie company at the bed and breakfast. Then we moved to the rural mountains of Colorado, a small house on 30 acres, and we only had to step off the porch to go for our daily mountain hikes.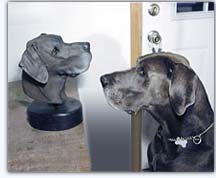 My husband, Chris, built me a small studio and I put a couch-like dog bed in it. Nandi, always at my side, would lie on it while I worked. I first learned to sculpt the human figure while working with models, but in Guffey, Colorado, there were no human models available so it was natural that I began to sculpt Nandi. She was the inspiration for many sculptures including Hangdog, Queen on Her Throne, Sit-Stay!, Couch Potatoes, Quality Time, Lean on Me, Tickled, Zoomies, the "Old" in The Old and the Restless, Deer Fly, First, Second, and Third Stretch. There is a part of Nandi in every sculpture I've created.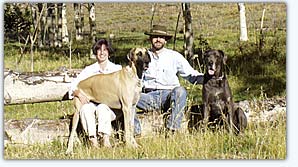 When Nandi turned nine we decided to get her a puppy to help keep her young. Nandi was always the top dog, but Bella really kept her moving; they rolled in the grass together in the summer and crashed through the snow in the winter. What a life for a Dane!
A little after her eleventh birthday we noticed that Nandi was slowing down on our walks and starting to breathe heavily. We took her to our vet, who referred us to a cardiac specialist. Nandi was diagnosed with cardiomyopathy, but it seemed we had caught it in the early stages and could expect many more months with treatment. The medications seemed to work immediately, but soon Nandi stopped eating. At first she would eat special treats, but eventually she turned from everything.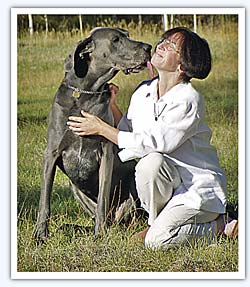 She began to lose weight, and we feared that we would have to make the difficult decision to have our vet come out and euthanize her. But in a final gift to us, she allowed nature to take its course. On April 28, 2004, she got up in the morning, walked out to her dog bed by my studio, waited until I came to sit with her, then laid down on her side and peacefully died.
It was a beautiful warm spring day the morning she died, but within an hour it turned cold and snow fell. This cold weather proved to be a blessing, protecting her body while we put into motion a plan that would both memorialize her and allow her to continue forever as my model. Chris is a research associate at the Denver Museum of Nature and Science, one of the premier natural history museums in the U.S., and we were able to arrange for the skilled staff of the Zoology department to take Nandi and to prepare her bones for articulation. In this way, she continues to give: to the Museum, she will help sustain their dermestid beetle colony and will provide knowledge for the canid specialists; to me, she gives her bones so I can better understand Great Dane anatomy through the process of putting together her skeleton. When I am done, Nandi will be with me again to model for all my future pieces. We thought long and hard about whether to do this, but decided in the end that we were honoring Nandi by this process. After all, the beetles at the Museum are only speeding up the natural process that would occur if we buried her.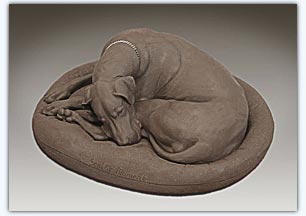 When Nandi was nine she lay in this beautiful pose, I got my camera out and shot pictures from every angle. I loved the way she curled up with her head resting on stretched out legs all intertwined. I didn't start working on Senior Moment until she became ill and I knew we didn't have long. Nandi had many dog beds; this was the one she posed on and the one she chose to die on. This piece is a memorial to Nandi and a tribute to senior Danes everywhere.
We miss you, Nandi.