– Pugnacious Puppies –
May 3, 2004 – When I saw these Great Dane puppies for the very first time, they were just three days old. Their physical activity was pretty limited. It consisted almost entirely of eating and sleeping, or maneuvering around to find the best teat or most comfortable spot for a nap. I visited them again when they were 15 days old. What a difference! Their weight had more than tripled, their eyes had opened, they were struggling to stand and walk on their wobbly little legs – and best of all, they could talk. I had no idea two-week-old puppies could be so vocal. They squealed, groaned, grunted and growled. They yipped, yowled and yawned. Their ears were just starting to open, but these puppies must be able to hear, otherwise why would they have so much to say?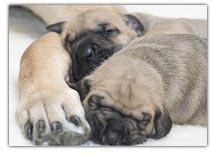 Making Puppies
If you are a regular visitor to DaDane of DaWeek, chances are you own a Great Dane. I'm betting that few of you bred your pet; someone else did that for you. Most well-respected breeders will tell you that the best reason (and perhaps the only reason) to breed a Great Dane is to improve the breed. They will go on to say that the worst reason (and perhaps the most foolish reason) is to make money. If it is done right, the most a breeder can hope for is to cover expenses.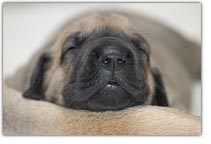 If it is done right?
Okay, so what do I mean by that? Producing a healthy litter takes more than putting two dogs together and letting nature take its course. A good breeder will invest a lot of thought and energy into finding a suitable sire to father the litter. The goal is to better the breed, and it takes a great deal of knowledge and experience to make the best possible selection. It also takes money. Stud fees can range anywhere from $500 for an "unproven" stud, to several thousand for a "proven" Top Twenty champion. And believe me, that's just the beginning. Preliminary health testing alone can easily top $1000 for just the dam.
More to follow
Next week we'll talk in greater detail about the responsibilities (and expenses) incurred by the most conscientious of breeders. And, of course, we'll revisit the puppies to see how much they've changed. Stay tuned.
PS...
I want to thank Sunni (and her Dane, Bella) for sending Merlin a generous sampling of her delicious homemade organic Red Rover Treats – he LOVED them!
---
©2002-2008 by Ginnie Saunders. All rights are reserved. No part of this web site may be reproduced or transmitted in any form or by any means — electronic or mechanical, including photocopying, recording, or by any information storage or retrieval system — without written permission from Ginnie Saunders. To learn more about copyright issues on the web, visit the Web Law FAQ.






Ginnie.com, Inc.
PO Box 50314
Columbia, SC 29250
(803) 783-3169
www.ginnie.com