– Carolina Ice Storm, Part 2 –
February 9, 2004 – It had been a rough night. (See last week.) Dawn came slowly and I peeked outside as details began to emerge in the gathering light. The rain had nearly stopped, but the sound of snapping limbs continued. Every minute or two, a limb or branch would give way and come crashing to the ground. I stared out the window. The property around the house was littered with debris, but all the trees were still standing. It looked pretty bad but I knew it could have been worse, especially if we'd had any wind.
I switched on my little battery-operated TV and listened to the local station. The good news was the freezing rain had almost ended. The bad news was that more than 300,000 homes in the area were without power. The good news was that temperatures would rise above freezing today and melt off some of the ice. The bad news was that a cold front was on the way, bringing with it sustained high winds and an overnight temperature of just 23 degrees. If most of the ice didn't melt off before the wind picked up, more trees could be toppled and there would be additional power outages. Work crews from neighboring states were on the way to help out, but repairs might take as long as a week in some places. Yikes!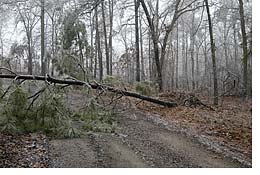 Wake Up Call
It was still early. Nonetheless, I picked up the phone and rang my husband's hotel room on the west coast. A three hour time difference. I knew he'd be sound asleep, but I wanted some sympathy – and I wanted it now. A groggy voice answered the phone. "It's cold and I'm trapped here by a fallen tree and why did you have to leave during an ice storm?! " I wailed. Then, more calmly, I filled him in. The most pressing problem, I knew, was my inability to get more gas to keep the wood stove's blower running. My husband reminded me that my Matrix has a regular AC115V power outlet on the dash. This would enable me to abandon the cigarette lighter's inefficient power converter, but I would need a 2- to 3-prong adaptor to attach the extension cord. Now I had two reasons to get my car on the road – gas, adaptor – but how bad was the driveway? There was just one way to find out. I was a little nervous about hiking up the road while the limbs were still falling, so we agreed that I would carry my cell phone and call 911 if anything fell on me. Off I went to survey the damage, leaving Merlin inside where it was safe.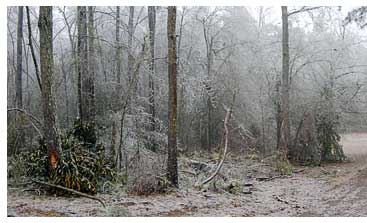 The driveway wasn't as bad as I expected. The biggest downed tree was the one that fell the day before. There were four or five smaller trees blocking the road and a lot of debris. When I got back to the house I called our friend and neighbor, Jim Welch. (I use the term "neighbor" loosely here. Where we live, a neighbor is anyone whose home you can hike to through the woods in an hour or less.) Jim told me his wife, Ceille, was out of town and he had spent the night in front of the fireplace with Jeb, his young hound dog. They'd used up their wood supply, so Jim had been busy since the crack of dawn chopping and splitting new wood. (Gotta stay warm.) As soon as I told him I was alone and stranded, he offered to come over with his chain saw and cut me out. What a guy! I suggested he wait an hour or two because timber was still falling. I then phoned my good buddy (and neighbor), Cindy Niske, to see how she and her family were doing. Not as well as I was. They had no fireplace, no working stove, and the house was downright cold. She was also worried about the dogs staying in her boarding kennel. She wanted to bring all of them inside, but she had two Danes in season. She had given the kennel dogs extra blankets and everyone seemed to be doing fine, but she needed to figure out how to get some heat going before nightfall. Poor Cindy. I called another neighbor to see if he knew anything. He told me that he and his wife had gone out early looking for a place to get a hot cup of coffee. "I just gotta have my morning coffee," he explained, "and if you want gas, you're going to have to drive a long way, just like we did, because the electricity is off almost all the way to Columbia."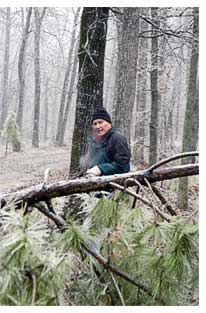 Buzz, Buzz
Jim showed up around noon. As soon as he turned onto our driveway he had to start using the chainsaw. Eventually he worked his way to the "big" tree, which he took down with relative ease. (That's easy for me to say, since I wasn't handling the saw.) It wasn't long before the driveway was passable. I was so grateful! We spent some time walking around the property because Jim wanted to see the damage. He told me there was far less ice and far less debris at his house. We walked over to the vegetable garden area, where the heaviest limbs had fallen. Our little white potting shed had taken quite a beating overnight. Meanwhile, every minute or so, we heard loud cracks off in the woods. Trees continued to shed their limbs, even as the ice was melting away. It was downright creepy.
We were ready to move on. Jim said goodbye and I jumped in my car and headed toward the city. The main roads were clear, but some secondary roads were impassable due to fallen limbs and trees. I finally found an open gas station. I filled my tank, along with a 5 gallon container. I stopped at Lowe's and found the adaptor I needed. Once home, I rigged up my new "heating system" and with the blower doing its job, the family room instantly warmed up. I was one happy camper! I called Cindy. "Hey, if you have plenty of gas in your car, I think I have something to help keep you warm!" She was over in no time flat to pick up my "retired" power converter. I also loaned her a big electric heater from my studio. She mentioned that she had a kerosene heater to use in the kennel, but there was no kerosene to be found anywhere. The stations around here had plenty of kerosene, but no means to pump it. And all the working gas stations were sold out. We went up to our big storage shed where I found an old 5 gallon storage can with a bit of kerosene left – hopefully enough to help Cindy out for at least a little while.
Another Dark Night
By evening, I was reasonably content. The car had been idling in the garage (garage door open to the outside to avoid a build-up of fumes) and supplying an uninterrupted flow of energy to the wood stove's blower for over 5 hours. The family room was toasty warm. My car's gas gauge was just below full, which meant I could run the blower all night long. I'd enjoyed a nice, warm dinner. The dreaded high winds had not yet materialized and the temperature outside had not yet plummeted. Things were looking up. At 9:30 Jim called. He could see lights on at some homes down the road from his own. Did I have power yet? Nope, but maybe by night's end? Suddenly our lights flickered on. Oh boy! Then they went right off, and stayed off. I told Jim I would check with Cindy to see if she had power. Cindy told me their electricity had come back on an hour ago (and you didn't call me, Cindy?!) but it had just gone off again. At least they'd had enough time to take some out of the chill out of their house and kennel. I called Jim and we agreed that if either of us got our power back, we'd call the other, no matter how late it was. By 10:30 I had settled in for another night on the couch in front of the fireplace.
At 2am I was rudely awakened by the telephone. What in the world?! It was Jim. His electricity was back on – and so was ours! I didn't trust that it would stay on, though, so I spent the rest of the night right where I was. The next day, and for the rest of the week, we had sporadic power outages, but most of the time everything was okay.
I read somewhere that 350,000 homes in South Carolina lost power during the ice storm. By week's end, electricity had been restored to most, although it was reported that 5,000 were without service for 6-7 days. At our house, we are still mopping up, and we will continue to do so for a long time. If you'd like to see more photos of our storm damage, you can check out a slide show that I created for my husband's "amusement" while he was out of town.
---
©2002-2008 by Ginnie Saunders. All rights are reserved. No part of this web site may be reproduced or transmitted in any form or by any means — electronic or mechanical, including photocopying, recording, or by any information storage or retrieval system — without written permission from Ginnie Saunders. To learn more about copyright issues on the web, visit the Web Law FAQ.






Ginnie.com, Inc.
PO Box 50314
Columbia, SC 29250
(803) 783-3169
www.ginnie.com