– Carolina Ice Storm –
February 2, 2004 – Last week South Carolina was hit by a major ice storm. A low wedge of frigid air stalled over much of the state, while above it, a warm moist air mass moved in. Wet drizzle began falling Sunday afternoon, January 25th, and ice started to develop. By Monday morning most of South Carolina was covered with a thin layer of ice,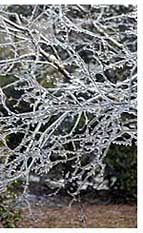 and the public was warned to stay off the roadways. I hastily posted last week's DaDane, did a few chores and then I got ready to take my husband to the airport. He was heading to Oregon on business and he had a noon flight. We took the interstate and drove carefully. The rain was intensifying and freezing as it hit the windshield. My wiper blades were choked with ice. The highway's surface wasn't too bad yet except for some icy patches. Fortunately, all the cars and trucks we encountered were driven cautiously. We arrived at the airport and verified that my husband's plane was still flying. I kissed him goodbye and off he went.
The weather forecast called for another 24 hours of rain, possibly up to 2 inches, with significant ice accumulation. This was a recipe for disaster. Power failures were inevitable. It was time to stock up. I decided to head home through the city, with stops at the grocery store, feed store and hardware store. Not many people were on the road and the city streets weren't too bad yet. I made my stops and left the city behind, driving east. By then, road conditions were rapidly deteriorating.
Home, Sweet Home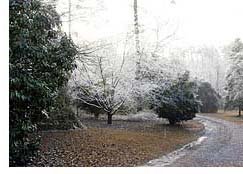 We live near Columbia, SC, which is located almost smack-dab in the middle of the state. We're approximately 2 hours from the coast, 2 hours from the Blue Ridge foothills, and 4 hours from Atlanta. Our property consists of 75 wooded acres, mostly loblolly pines and mixed hardwoods. The acreage includes an 8 acre pond that sits 20 yards from our front door. Our dirt and gravel driveway winds 1/2 mile through the woods, passes by the pond and ends at the house. Once we're home, we're pretty isolated. There's only one way in or out.
By the time I got home, trees along the driveway were icing up and the landscape was becoming increasingly white. I knew it was just a matter of time before we lost power, but it was only 1:30, so I figured we had several more hours before tree limbs would start hitting the power lines. I stoked the fire in our wood-burning stove (a hefty fireplace insert), put away the groceries, and grabbed some containers for storing fresh water. I was filling the second container when ZAP! – the power went out. The water stopped, too, because the well pump was no longer pumping. No water, no lights, no heat. Lovely.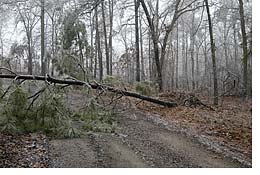 Baby, It's Cold Outside
It was hovering right around freezing. If we were without power for more than a few hours, keeping warm would become an issue. We don't own a generator, but we do have a small power converter that hooks up to an automobile's cigarette lighter. I knew I could run an extension cord from one of our cars to the house to keep the fireplace blower going – as long as I enough gas to idle. Both cars were pretty low on gas, though, so I jumped in my little blue Matrix and started up the road, heading for a modest country gas station just 2 miles away. Our driveway was easy to navigate until I rounded the second bend. Up ahead, a young pine had gone over, its root ball exposed. I could not get around it because other (still upright) trees stood in the way. I was trapped. If my husband was home, he'd be out there with a chainsaw, but I have no clue how to even start one. (I'd probably cut my leg off, anyway.) It was back to the house to regroup.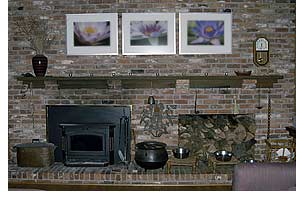 A Hard Rain's A-gonna Fall
With the rain still falling, and ice steadily accumulating, I knew the situation outside was going to get worse before it got better. On the back patio, I placed two big buckets under the icicles on the eaves to catch the run-off. Inside, the fire was burning well and heat was radiating from the stove. The wood bin just next to the fireplace contained enough stacked wood to last two or three days. Outside, behind the big shed, I had enough split wood to last for a week or two, thanks to the diligence of my good husband.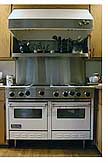 I closed off 3/4 of the house, confining the heat to the family room and the kitchen. I rounded up assorted batteries, lanterns, oil lamps, candles and a small battery-operated television. I grabbed two down comforters and three feather pillows and arranged them on the couch in front of the fireplace. I was still able to cook because our commercial-grade range (a Viking) runs on liquid propane. The pilot lights were off, but matches worked just fine. While eating a nice warm dinner, I turned on the local TV station. The ice storm dominated the news. At the top of the broadcast, there were 100,000 homes without power. A half hour later the number had risen to 200,000 and it was still climbing. Freezing rain was supposed to continue through the night and into the next morning. According to one meteorologist, "Time will tell, but this could be the worst ice storm to hit South Carolina in 30 years."
Bedtime Blues
With the heavy cloud cover it was very dark outside. Every now and then I'd hear a distant pop, like a firecracker. Tree limbs were falling. After dinner I closed off the kitchen. The temperature in the main room was dropping so I hooked up my car as a generator and used it to run the wood stove's blower for an hour or so. The room warmed from 57 to 65 degrees – not bad at all. I went to bed at 8:30 because there was nothing else to do. As the night wore on, the distant pops got louder and drew closer until they sounded more like gun shots than firecrackers. I'd hear the "rifle shot" of a limb's first snap, followed by a sickening crack as the wood tore away. I could hear smaller branches snapping off as bigger limbs fell to the ground, landing (always) with a loud crash.
Merlin, who was lying on his bed between the couch and the fireplace, would sit up and growl. We took what sleep we could while tree limbs crashed all around us.
At one end of our family room we have two large windows, each measuring 60 square feet. Opposite one of the windows there grows a huge old magnolia tree. We were awakened at 3am by a loud cracking sound followed by a huge crash. Merlin barked. Even though it was pitch black outside, I knew exactly what had happened. Part of the magnolia had come down. This was soon followed by more ripping and tearing as four more limbs split off in rapid succession. Meanwhile, next to the other window, a big loblolly pine was shedding its wood. We hunkered down and waited for dawn.
( Go to Part 2 )