– Bleaugh! –
November 10, 2003 – Once in awhile, if we are really lucky, the shutter clicks at the exact moment in time when our subject does something unexpected to reveal his or her true nature. Such was the case when I photographed six-month-old Heidi at the GDCA National a couple of weeks ago. Heidi is owned by Linda and Jerry Dunham of Austin, Texas, and she was attending her very first dog show. Heidi didn't win anything this time around – and perhaps this photo/portrait sums up her feelings about that.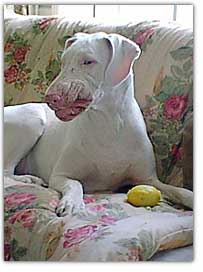 Several years ago I received, via email, a "bleaugh!" picture that has stuck with me ever since. Lin Gardinor of Ontario, Canada, captured a hilarious photo of then one-year-old "Miss Olyvia" tasting a raw lemon for the first time. (She had just swiped the lemon from another Dane.) Miss Olyvia was not amused, although everyone else was. Missy, as she is affectionately called, just celebrated her fifth birthday. She is totally deaf, and blind in one eye. Last week I talked a little bit about deaf Danes. Missy's mom, who heads a household of THREE deaf Danes, contributed some good observations to the comments area, as did several others. Please take a look if you haven't seen the most recent comments.
Addison's Disease in the Great Dane
Hypoadrenocorticism, aka Addison's Disease, while not prevalent in our breed, has a definite presence. What is Addison's? It is a condition in which the adrenal glands fail to produce enough cortisone to maintain good health. It is a challenge to diagnose because symptoms can be varied, and too often a diagnosis comes too late to save a beloved pet. Over the past five years about a dozen people have written to tell me of their Dane's struggle with Addison's. I promised myself I'd do a story on it for DaDane of DaWeek, but never quite got around to it. Perhaps now is the time. If you've had experience with Addison's in the Great Dane, and you'd like to share your story, please drop me a line.
Addison's Research to Benefit Great Danes
If you have an Addison's Dane, you and your dog may be able to help our breed!
The Great Dane Club of America (GDCA) is seeking Great Dane families where at least one member has been diagnosed by a veterinarian with Addison's disease for a potential research project into the genetics and heritability of the disease in this breed. A minimal population of 50 affected dogs (i.e. Danes with Addison's) is necessary. A population of related dogs with known health status will be required to complete the study so each volunteer needs to be able to offer some close relatives into the study. Ideally each Addison's Dane should be able to also provide the health status of approximately 5 close family members (i.e. parents, siblings, offspring).
If you have or know of some Danes who could help the GDCA explore this disease in our breed, please contact the Chair of the Health & Welfare Committee (info provided below). Confidentiality is assured, as all dogs will be assigned numbers for the study.
Contact: JP Yousha, Chair of Health & Welfare, GDCA, chromadane@juno.com, (432) 684-8940.
---
©2002-2008 by Ginnie Saunders. All rights are reserved. No part of this web site may be reproduced or transmitted in any form or by any means — electronic or mechanical, including photocopying, recording, or by any information storage or retrieval system — without written permission from Ginnie Saunders. To learn more about copyright issues on the web, visit the Web Law FAQ.






Ginnie.com, Inc.
PO Box 50314
Columbia, SC 29250
(803) 783-3169
www.ginnie.com