– White Puppy –
November 3, 2003 – On the last day of the Nationals, a young couple wandered through the vendor's tent with a pair of puppies in tow. They lived in the area and decided to visit the show because it offered an ideal opportunity for socializing their young dogs. One of their puppies was a lightly marked harlequin; the other was white. They were littermates.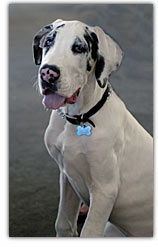 Since the day was winding down and not much was going on, many of the nearby vendors (myself included, camera in hand) rushed over to see the pups. They were adorable. The white puppy, as is so often the case with white Danes, was completely deaf. The couple told us that they had purchased the harlequin puppy and at the last minute the seller asked them to take the deaf puppy as well. He told them it was "hard to find good homes for his deaf puppies" and he thought they would take good care of him. Well, he was right. The deaf puppy had indeed lucked into a wonderful home. His owners appeared to be intelligent, responsible and caring individuals. They told us they are working hard to learn the ins-and-outs of raising a deaf dog.
While we were chatting, I looked into the deaf puppy's eyes and thought I saw the tell-tale signs of an early vision abnormality that will likely accelerate with age. This disorder is very common in deaf danes. The puppy's owners seemed unaware of the fact that their puppy may have a vision problem that could lead to blindness. They were enjoying the day, enjoying their puppies, and it was a nice family outing. So I said nothing about it.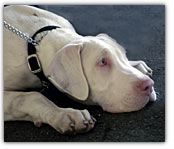 After they left, Deb Rahl, director of the Mid-Atlantic Great Dane Rescue League (MAGDRL), and I looked at each other and shook our heads. The breeder of this pair, it seemed, was routinely producing litters with deaf puppies. Deafness in Danes is a genetic defect easily avoided through knowledgeable breeding practices. Unfortunately there are many irresponsible "backyard breeders" all over the United States cranking out deaf Great Dane puppies. These puppies can become increasingly difficult to manage as they grow up, and because of their size, many deaf Danes end up in rescue – or worse. MAGDRL and other rescue groups encounter these "deaf refugees" all the time and do the best they can for them. As you might imagine, it can be difficult to find stable, permanent homes for adult deaf dogs the size of a Great Dane.
Hopefully the puppy we met that day will live a long and happy life. It certainly looked like he was off to a good start. We wish him all the best. You can learn a little more about deaf Danes here.
---
©2002-2008 by Ginnie Saunders. All rights are reserved. No part of this web site may be reproduced or transmitted in any form or by any means — electronic or mechanical, including photocopying, recording, or by any information storage or retrieval system — without written permission from Ginnie Saunders. To learn more about copyright issues on the web, visit the Web Law FAQ.






Ginnie.com, Inc.
PO Box 50314
Columbia, SC 29250
(803) 783-3169
www.ginnie.com