– 2003 GDCA National –
October 27, 2003 – My last minute decision to open a vendor's booth at the GDCA National Specialty left me scurrying around in a mad attempt to get everything ready before heading out to Orlando on October 18. One causality of the process was last week's DaDane, which never quite materialized. I thought I might be able to post something while I was at the show, but I had little, if any, free time.
Normally I shoot many hundreds of photos at the National, but not this year. Instead I concentrated on running my booth and shooting photos that will be used later in commissioned work. This week's portrait is a "sketch" for a new commissioned piece. Since the work is still in progress, I am not identifying the dog – a young female – just yet. When the portrait is complete I'll run a story on her.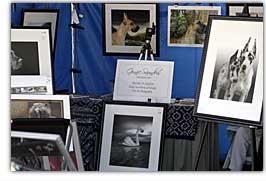 Having a booth at the National was great fun. Lots of old friends stopped by and I met many new people. My merchandise consisted of limited edition prints (framed and unframed) and open edition pigment prints. I didn't know what to expect in terms of sales, but naturally I hoped to realize some profit. The booth did quite well, as it turned out, and I'm already thinking about next year's show.
Special Thanks
I want to thank jeweler Kathy Gammill for hauling her "extra" EZ-Up tent all the way from Tennessee just so I could use it for my booth. That was a real act of kindness. Kathy's booth was right across from mine and I enjoyed seeing her smiling face everyday. Plus, I am madly in love with Alex, the big ol' Great Dane who accompanies Kathy everywhere she goes. (I'll have a story on him soon.) I'm also grateful to Paula Stebbins for helping me set up every morning and knock down each night. She often watched over things when I had to leave the booth and helped out when things got busy. She's a good buddy and I appreciate her friendship. Thanks also to Amy and Ben Johnson (greatdanephotos.com) who shared hot pizza, loaned a firewire cable, and "talked shop" with me. They did a fantastic job of shooting the shows each day and then working late into the night to get everything online by the following morning. If you haven't seen it already, check out their daily photo coverage of the Nationals. You'll find complete results with accompanying photos. I'd like to add that Amy was shooting under the extremely difficult lighting conditions and she got remarkable results.
---
©2002-2008 by Ginnie Saunders. All rights are reserved. No part of this web site may be reproduced or transmitted in any form or by any means — electronic or mechanical, including photocopying, recording, or by any information storage or retrieval system — without written permission from Ginnie Saunders. To learn more about copyright issues on the web, visit the Web Law FAQ.






Ginnie.com, Inc.
PO Box 50314
Columbia, SC 29250
(803) 783-3169
www.ginnie.com