"My husband, Chris, and I decided to add another Great Dane to our family after my diabetic cat, Michael, passed away. We had been left with a 9-year-old Dane, Nandi, and a 10-year-old cat, Cinder. We felt we needed to rejuvenate the pack. I really wanted to rescue a Dane, but Chris wanted a puppy – plus I needed a good example of the breed for my model. While displaying my sculptures at the Great Dane Club of California specialties in June 2002, I spread the word that I was looking for a new Fawn model. Sharon and Roger Rendall (Rosha Danes) met all my requirements as responsible breeders, and even though Bella had a long list of possible homes, Sharon told me that she would be honored if I would take her as my model.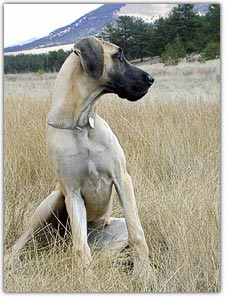 When I saw Bella with her litter mates, I knew that she would be a challenge. While the other puppies were sleeping, Bella was still going, and when they were playing, she was right on top of them. She has not slowed down since. Besides being a devoted and highly energetic pet and companion, Bella has been earning her keep as my model. In her 14 months with me she has inspired seven new sculptures! Nandi, my now 10-year-old Blue and first model, has always been a very goofy Dane with not a regal bone in her body. By contrast, Bella is an elegant Dane with the most gorgeous arch to her neck. Since I am inspired by what I see, my sculptures are taking on a much more elegant style.
But Bella is not only a wonderful model. With her boundless energy and enthusiasm, she is keeping Nandi young and spry. She is also showing a natural talent for Agility. If I can take enough time away from my sculpting passion, I hope to compete with Bella in some Agility Trials.
Bella is my third Dane and the most affectionate one so far. She wants to be next to me or on top of me whenever possible. In the morning when the sun starts to come up, she climbs up on the bed between Chris and me, lies down length-wise like a person, and rests her head on my chest, her nose to my nose. That is my idea of heaven."