Created: 05/12/03
Links:


– Newest DaDane



– Previous DaDane



– Archived DaDanes



– Copyright Policy
Available now
DaDane of DaWeek
T-shirts & Sweatshirts



Coming soon...
DaDane Notecards &
Prints





– Zippity-Doo! –
May 12, 2003 – Last week we talked about the inherent beauty of Great Danes and the dedication of those breeders who are committed to improving the breed. Unfortunately, for each high-quality breeder we might encounter, many more are busily cranking out Great Dane litters with little concept of what they are producing, and little interest in what happens to the puppies after they've been sold.

Jill Swedlow, a respected judge and author of several books on the breed, has written an informative article on how to recognize a responsible breeder: Interviewing Breeders.

This a broad and complex subject, and we won't attempt to tackle it today – maybe another time. Instead, I'd like to take a moment to talk about the wonderful individuals in Rescue who devote their time and energy to looking after those unwanted Danes who are, more often than not, the product of backyard breeders and puppy millers. In my view, rescue folks are the unsung heroes of the Dane community. They take in unwanted, abandoned Danes of all ages, sizes, conditions and backgrounds. They evaluate their health and temperament. They attempt to rehabilitate and re-home those that can be salvaged, and they humanely end the suffering of those that have been too damaged. It is difficult work. The emotional and financial sacrifices are immeasurable. We should all appreciate and support the efforts of our rescue groups.

Meet Zippy
This week's portrait features Biene Parker's "Zippy." He is a six-year-old rescue Dane living in North Carolina. I met him last year at the GDCA National. This is his story, as told by Biene:

"I first laid eyes on Zippy on January 25, 1997, when I answered the call of a local shelter. Zipp arrived at the shelter – along with 12 other littermates – when he was just five days old. His dam had stopped producing milk and the puppies all had to be bottle fed. Their breeder didn't have time for it, so the puppies were dumped. They needed care and they needed it fast. Suddenly, I found myself with a box full of 5-day-old starving puppies. I was determined to do whatever I could to save them.



I had never raised a litter of puppies and I was pretty nervous. I called upon all the Dane breeders I knew, phoning them frequently, both day and night, for advice and support. They told me the puppies needed to be fed every 3 hours. Well, it took me 3 hours to feed the whole gang, and then I'd have to start the process all over again! To identify each puppy and track which one had been fed and when, I devised names based on their markings, like Zipper for Zippy, who had a white line over his head.



Looking back, I can now say this was the happiest time of my 22 years in Dane rescue. It also brought sad times when two of the puppies died, and it brought worries when the other pups didn't 'act right'. Certain happy memories have stayed with me, like the cheerful pitter-patter from a herd of puppy paws when I called for chow-time, and their first explorations outside. My husband observed that I looked like the pied-piper – always with a string of puppies following.



Early on, I noticed a special puppy: Zippy. He would distance himself and quietly observe the others tumbling around. He was a calm pup. This is the one I would keep! I also chose the wildest one, a little girl named Lili. Keeping the two helped me overcome the day when I drove my puppies to be placed into foster homes with other rescue volunteers.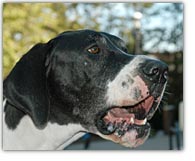 Zippy grew very tall. He loved people and animals, he always did the right thing and he was cool. He became the public relations Dane for the North Carolina rescue. I walked very proud beside him. At 10 months of age, Zipp was discovered by the Wilmington, NC film industry and he appeared in the movie 'Bruno' with Shirley MacLaine. He also shot several TV ads. (I kept some of his earnings as pay-back for my Coco Chanel handbag he chewed up earlier). Zipp thrived on filming. He loved the action and all the people. When he would visit us with his motion picture animal trainer, he'd briefly say "Hi" and jump right back into her car. The movie 'Bruno' had many child actors and even today, five years later, whenever Zipp hears children laughing he makes a straight beeline to them.



The happy times did not last forever, though. April 1999, when he was just 2 years old, Zippy suddenly became ill. Poisoning was first suspected, but he was eventually diagnosed with a tick-borne disease by NC State Vet. School, where he stayed for two days. He was treated with Vitamin K, antibiotics and prednisone. His platelets were dangerously low. His condition improved over a month's time, but later on he became lethargic and urinated pure blood. An ultrasound showed a bladder disorder with thickened bladder walls. He is given extreme doses of antibiotics for 6 weeks.



On December 21, 2000, we faced another crisis when Zipp had gastric torsion (bloat) during the night. He required emergency surgery. Two months after the surgery, he had lost 21 lbs. and his hind legs were shaking involuntarily. He never fully recovered. We went to the Tarheel circuit in Raleigh, NC with him, which he enjoyed so much the year before, but this time he was fearful, tucked his tail and wanted to go home. He also became fearful of thunderstorms and 4th of July firecrackers.



His veterinarian did not know what to do for him, so I sought the help of a holistic vet who listened carefully and mixed up a prescription. This has helped Zipp very much. But he has no stamina, and that's how you, Ginnie, met him at the Nationals. He does not enjoy the action anymore. His legs still tremble, his knees are arthritic, and getting up and down is very difficult. He is still vomiting sometimes and lately he has been drinking much too much water again. He needs to be reevaluated, especially his thyroid function.



Nowadays Zipp enjoys long naps on our bed, though he has developed an odd habit... he growls when I touch him turning in my sleep. He likes an occasional car ride, but prefers to stay home most of the time where he has plenty of company. He loves other dogs, and dogs are always plentiful at our home because I am a foster mom for the MAGDRL. Despite his disabilities, Zipp and I take short walks, which he still enjoys. And, just like before, I continue to walk very proud beside him."
---
©2002-2008 by Ginnie Saunders. All rights are reserved. No part of this web site may be reproduced or transmitted in any form or by any means — electronic or mechanical, including photocopying, recording, or by any information storage or retrieval system — without written permission from Ginnie Saunders. To learn more about copyright issues on the web, visit the Web Law FAQ.






Ginnie.com, Inc.
PO Box 50314
Columbia, SC 29250
(803) 783-3169
www.ginnie.com