Created: 02/17/03
Links:


– Newest DaDane



– Previous DaDane



– Archived DaDanes



– Copyright Policy
Available now
DaDane of DaWeek
T-shirts & Sweatshirts



Coming soon...
DaDane Notecards &
Prints





– Portrait of Electra –
February 19, 2003 – This week's DaDane portrait features the lovely Electra, who I photographed at the 2002 GDCA National. Electra's breeder, Stephanie Gallups, has this to say about her:
Ch. Harley D. Hardt's Electra Glide, aka Lou, aka Lou-Lou-Magoo, is the "grand dam" of the Harley D. household. She was one of 9 puppies out of Ch. Primrose Chase the Clouds and Ch. Harley Davidson Hardt's. Electra was the last remaining puppy in the litter, and therefore (by default) the one I decided to keep. It turned out to be a blessing in disguise. When her mother died of bone cancer at the age of 5, I didn't think any dog could take her place in my heart, but how wrong I was. Lou is the love of my life!!



Electra – along with six of her siblings – will be celebrating her 7th birthday on February 23, 2003. She is the proud mother of 10 puppies. Seven of them have become Champions. Among them, 6 are Breed winners, 4 are Group placers, and 2 are Specialty Show and Group winners. In addition, 1 has a TD title (Tracking Dog) that was attained at the tender age of 6 1/2 months. Not such a bad record for a gal who needed over 150 shows to finish! Electra loves to show in the veterans class, and she has been much more successful there than she was in the regular classes... she has just gotten better with age!"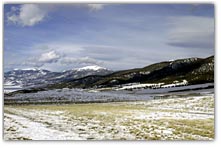 Well, Electra isn't the only one who has gotten better with age. I just returned from a trip to Taos, New Mexico. I traveled there to help an "irascible old rascal," Ingrid Dohler, celebrate her 65th birthday with some friends. Before leaving, I prepared a little on-line birthday card for Ingrid, and now that I'm back, I've put together a brief slide show of her party. Click here if you would like to see them.


As for Taos – and northern New Mexico, itself – all I can say is WOW. At elevations of 7,000 to 9,000 feet (and more!), the 360° vistas are spectacular, the light is ever-changing and the air is crisp and clean. Now I know what they mean when they talk about "Big Sky." It is a magical, fluid, and utterly beautiful place.
---
©2002-2008 by Ginnie Saunders. All rights are reserved. No part of this web site may be reproduced or transmitted in any form or by any means — electronic or mechanical, including photocopying, recording, or by any information storage or retrieval system — without written permission from Ginnie Saunders. To learn more about copyright issues on the web, visit the Web Law FAQ.






Ginnie.com, Inc.
PO Box 50314
Columbia, SC 29250
(803) 783-3169
www.ginnie.com