– Farewell to Doogan –
July 29, 2002 – It is with great sadness that I present, for the last time, Bev and Joe Klingensmith's Doogan. Doogan (Flighty KJEM Diamond Life) died yesterday afternoon after a three day struggle with a very sudden and inexplicable illness. He was only three years old.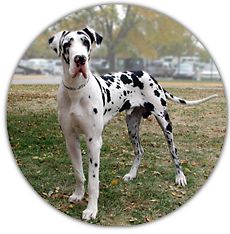 Doogan was treated at the intensive care unit at Iowa State University's Veterinary teaching hospital where he was provided with state-of-the-art medical treatment. Every conceivable test was performed. When there were still no answers, Doogan underwent exploratory surgery. Unfortunately, the collective expertise of his many doctors was insufficient to diagnose and treat the source of his acute illness and eventually Doogan succumbed to heart failure. A necropsy has been ordered.



Bev Klingensmith has been a very active and valuable member of the online Great Dane community for some time now. Doogan himself was a popular "personality," instantly loved by anyone who met him. I was one of Doogan's many fans. I'd like to send my personal condolences to Bev and her family.



If you would like to visit Doogan in happier days, you can see him at his DaDane page (Doogie Doggie). If you would like to read more about Doogan's symptoms and the course of his short but deadly illness, visit the discussion forum at Danesonline, Topic #1683.

---
©2002-2008 by Ginnie Saunders. All rights are reserved. No part of this web site may be reproduced or transmitted in any form or by any means — electronic or mechanical, including photocopying, recording, or by any information storage or retrieval system — without written permission from Ginnie Saunders. To learn more about copyright issues on the web, visit the Web Law FAQ.






Ginnie.com, Inc.
PO Box 50314
Columbia, SC 29250
(803) 783-3169
www.ginnie.com