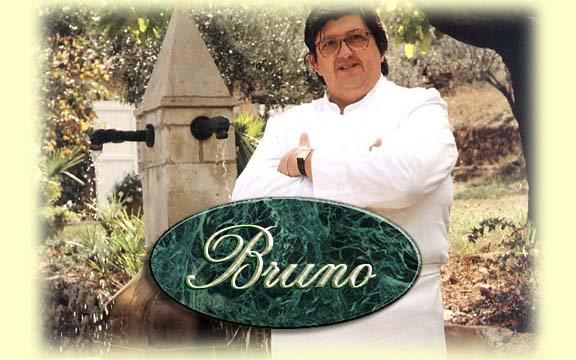 Visitors to the French Riviera are drawn to this legendary region for
several reasons: glitz and glamour, nightlife, fortunes won and lost in
casinos, weather, the azure Mediterranean sea, and of course, the food.
In a country where the acquisition, preparation, and consumption of food
is synonymous with life itself, the cuisine of the Mediterranean
has become justifiably famous in recent years.

However, those who fail to venture a small distance away from the
Côte d'Azur are missing a secret gem of discovery waiting just inland:
the small villages of Provence and their hearty and unpretentious cuisine.
In contrast to their flashy cousins only a few kilometers seaward,
the restaurateurs and chefs of Provence are directed by the offerings of nature,
and their creations reflect the mysterious bounty which nature provides.

Perhaps no other chef typifies the marriage between land and cuisine
and the desire to share the edible secrets of nature better
than Clement Bruno who welcomes guests daily to his restaurant.
Chez Bruno is located near Lorgues, about 100 km from Nice.
With only a tiny sign on the road and a distant mural on a
farmhouse beyond a field of grapevines, there is
little to alert passersby of the magic created in his kitchen.

This is a destination, and chef Bruno has little trouble filling his
tables for 6 course fix priced lunch and dinner offerings.
There are many reasons for the popularity of Chez Bruno;
glorious setting, exceptional service, and creative dishes emphasizing
absolutely fresh ingredients from local suppliers.
But a single element of his culinary creations, more than anything else,
is responsible for captivating his diners: truffles.

This wildly expensive subterranean fungus,
which is found locally, is the object of more lore and mystery
than any other single foodstuff in the world.
It is the centerpiece of most of Bruno's dishes.
Whereas other restaurateurs use truffles in minute quantities
while raising prices liberally, Bruno often forms entire dishes
around whole truffles. Indeed, sometimes it is difficult to see the
other ingredients under the mound of exquisitely pungent truffle slices.
Despite his most liberal use of the world's most expensive food
- with its pungent nose and earthy taste - the flavors and textures,
remarkably, always meld together in perfect harmony
with the other components of the dish.

Using more than 1000 kilograms of truffles annually, Bruno is almost
certainly unequaled in this respect by any other restaurant on the planet.
In fact, an American - and possibly even a Frenchmen -
eating at Chez Bruno will probably consume more truffles in one
3-hour lunch than he will consume during the remaining years of his life.
After having the pleasure of dining at Chez Bruno six times
in the last two years, we are struck by his amazing consistency.
His dishes are consistently creative and of the highest quality - no small feat!
We have never left feeling disappointed.

Watching Bruno introduce his menu du jour to each diner
and seeing him mingle with his guests throughout most of the meal
with his wry humor and immense presence,
it is impossible not to be struck by these two things:
1) he absolutely and unconditionally loves what he is doing,
and 2) he is a showman... the dining room is his stage.
There he seeks the adoration and admiration of his guests,
which he richly deserves. These elements are amply reflected
in his cooking and the purity of its message.
Perhaps his own words can best describe his milieu:

"Cooking carries a message of love, of sentiment, of nostalgia,
and when I am in the kitchen, I always think of the person
in my dining room who receives my message.
I feel a moral responsibility to the people I cook for.
In any case, I am only an apprentice, a perpetrator of traditions,
an artisan who doubts himself every minute.
I am never sure what I cook is good. My duty is always to
learn something new - you know the saying:
'Every day bring a stone in the construction of the temple.'
Speak of humanism and you speak of solidarity.
That was my grandmother's message
and it's what good cooking is all about."


I N D E E D !

CHEZ BRUNO
Campagne Mariette, Route du Vidauban , 83510 Lorgues, France
Tel: (011) (33) (4) 94 85 93 93
Fax: (011) (33) (4) 94 73 78 11

This web page was created in 1996 as a tribute to Clement Bruno.



The narration was written by Mike Carroll, an American whio was then living in Monaco.
Mike and his wife JoLynn were frequent patrons of Chez Bruno.



Ginnie Saunders (that's me) designed the web site.
Mike and his wife, JoLynn, introduced us to Chez Bruno and truffles. I'm forever grateful!.